Why Actsoft
For Government?
Since 1996, Actsoft has engineered software that provides returns to organizations in both the public and private sectors. Our vast experience in the government space is evidenced by the multiple school districts, police departments, and municipalities that currently use our solutions to help them keep their daily operations more secure, cost-effective, and responsive.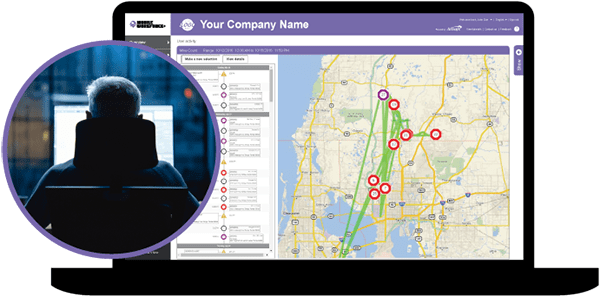 Unparalleled Customer Support
Our dedicated Customer Experience advisors are here to service you every step of the way with government solutions support and setup assistance.
Consistent Software Upgrades
Continuous enhancements to our software help ensure your government organization is always being supported with new ways to increase efficiency.

Robust Industry Experience
In the aftermath of Hurricane Sandy, we helped FEMA expedite damage assessments using our solutions' Wireless Forms and GPS Tracking features.
Benefits for Compliance
We help agencies adhere with the OMB and NARA requirement to be paperless by 2022.
Mobile Workforce Plus
Mobile Workforce Plus is our all-in-one workforce management software. Through the power of automation and integration, MWP helps your organization increase its efficiency, productivity, and safety.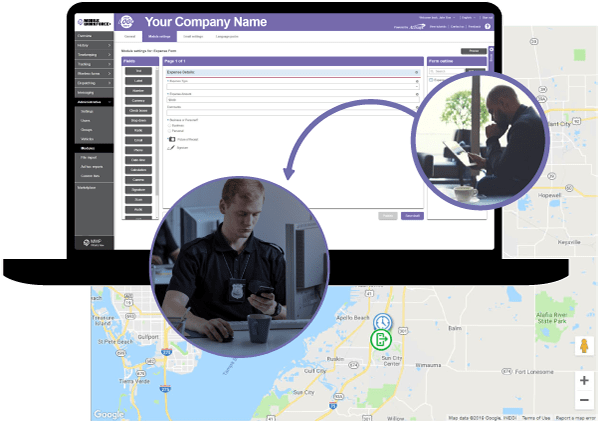 State and Local Government
District government employees can use MWP to remotely fill out inspection forms and other documents from a mobile device, saving time and money. For law enforcement, our Job Dispatching feature makes rerouting officers to new locations on the fly a more efficient and versatile process. Other types of state and local divisions, such as correctional facilities, public works, and maintenance departments benefit from using our applications' digital forms to collect data and log their supervisory tasks faster and more dynamically.
Increase productivity with location monitoring for your mobile employees while they work.
Use Photo Capture on Wireless Forms to document things at job sites in greater detail.

Enhanced situational awareness

Greater security for your mobile workforce
Help your mobile employees stay more versatile by relying on our solutions to maintain visibility during mission-critical scenarios. Know what's going on with your tracked points of interest in near real-time.
Respond to emergencies quicker with up-to-date locational data for vehicles, equipment, and employees.
Use GPS Tracking and Job Dispatching in tandem to reroute your closest available employees to new areas.
GPS Tracking on MWP allows you to better protect your agency's employees while they work, as well as any equipment or government-owned vehicles around the clock.
View the updated positions of your dispersed team members with our application's live view map.
Pinpoint missing asset or fleet vehicle locations from the solution's dashboard.
In the case of an emergency, precise location markers for each of your personnel make sending out assistance easier to do.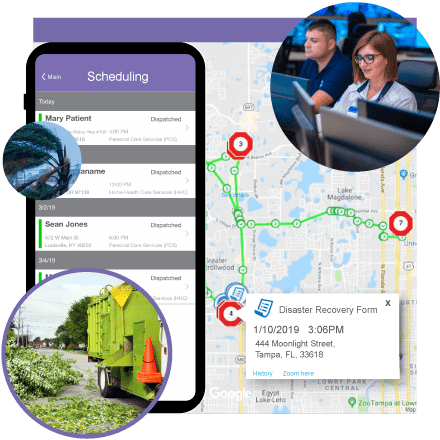 Federal Government
Federal agencies tasked with immediate response during disaster recovery situations can rely on MWP to help them visually document damage with real-time photo captures. Our Job Dispatching tool also allows them to send out employees to areas of public need quicker with secure office-to-field communications and GPS location tags. Departments in charge of maintaining channels of interstate transit (railway systems, highways, and air traffic control) can use Wireless Forms to more efficiently complete maintenance forms and routine safety checklists.
Increased visibility on your team's positions helps you keep operations smoother and more efficient.
In the case of an emergency, GPS Tracking's Closest-To feature makes it easier and faster for you to pinpoint and reroute your nearest available employees.
Protect confidential data

Manage equipment, employee, and vehicle locations
Keep data protected with MWP Vault, a highly secure version of our solution with even more encryption. Save and transfer important data on a software platform that's equipped with necessary tools to help you avoid costly security breaches.
Use Wireless Forms to document information in the field and securely send it back to the office.
Communicate orders to your mobile personnel safely with our solution's Intra-Company Messaging tool.
Federal agencies need ways to effectively keep tabs on the locations of their employees, vehicles, and assets. With GPS Tracking, you can improve response times via Closest-To dispatching and also increase equipment security.
Leave vehicles and assets at certain locations overnight with detailed reports on any potential movements that occur.
Make smarter operational strategies for your disaster recovery teams that are backed by detailed GPS analytics.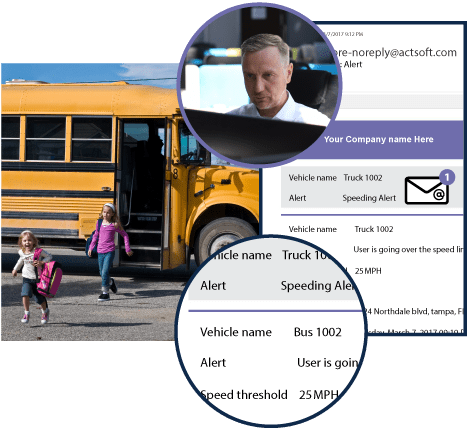 Education
Use MWP to increase accountability and safety for both students and bus drivers with near real-time field insight. Additional features our solution offers can digitally transform your current processes with mobile forms, helping you improve your district's budget with fewer paperwork errors, costs, and delays.
Security First
MWP Vault has multiple systems and protocols in place to help keep your data as safeguarded as possible while it's collected.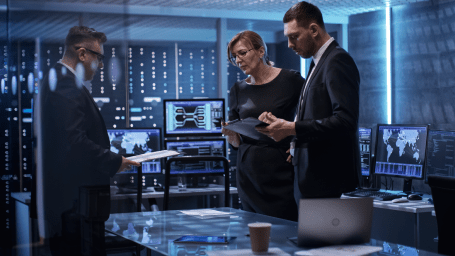 Capabilities:
Hosted in the Microsoft Azure cloud with Azure Advanced Data Security
Verified SAS 70 Type II and SSAE 16 data center accreditation
ISO 27001 certified data centers and offices
Dedicated firewalls complete with DDoS mitigation
Data encryption at rest and in transit
Supports HIPAA compliance
Secure updates with limited access control
Ongoing support staff training to ensure compliance
Regular security scans and penetration tests
Proactive 24/7 system monitoring
Backed by three local and three geo-redundant services for disaster recovery
Learn more about our end-to-end solutions for fleet and mobile business coordination.
Relevant features of MWP for government use:

Job Dispatching
Easily coordinate employees and adjust work assignments in near real-time by relaying new instructions with our scheduling software to mobile workers' smartphones or tablets.
Reduce lapses in workforce transparency.

Wireless Forms
Reduce paperwork inefficiencies with custom digital versions of your department's mobile forms. MWP Vault helps collected data remain protected with even more encryption.
Collect data in a faster and less expensive way.

GPS Tracking
Gain greater insight by seeing the near real-time GPS positions of your staff, assets, and vehicles from a detailed live view map, as well as their arrival and stop times.
Bring down high fuel and maintenance costs.

Mobile Timekeeping
Allow your workforce's personnel to clock in and out from mobile devices and directly begin work from the field, without the need for them to come to the office first.
Enable staff to finish more tasks daily.
Frequently Asked Questions about Government Software for Dispatching, Timekeeping, and Tracking
Get started today!
A few details and you're on your way to taking your business to the next level.