Software for Oil and Gas Employees
Refine your processes with a solution for efficient oil and gas management.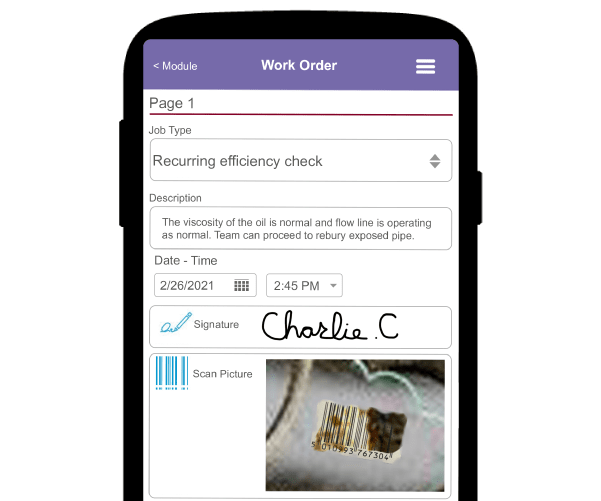 Help increase safety, productivity, and efficiency for your crew using Mobile Workforce Plus, our diverse resource management software. MWP helps your oil and gas company stay more connected across distance, get data faster, and be more equipped to handle mission-critical situations via desktop-to-handset integration.
On the Platform
Get back critical information from your offshore platforms to the office nearly instantly.
Be better equipped to respond in the event of an emergency with GPS Tracking.
Streamline productivity with electronic platform inspection forms and safety checklists.
In the Field
If no cellular or Wi-Fi network is available, all collected data using the app is saved until connectivity is reestablished.
Better identify areas for new drilling with Geofences, custom digital boundaries that are drawn on our solution's live view map.
Monitor entries and exits of geofences in the field by your employees, equipment, and vehicles.
At the Refinery
Boost output by filling out paperwork digitally and automating back-end processes.
Protect your vehicles against theft and misuse via 24/7 GPS monitoring, whether they're at the refinery or in the field.
Reduce downtime by assigning your employees tasks in advance digitally with Dispatching Scheduler.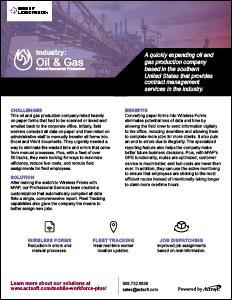 Essential Features for Oil and Gas Companies
Seamless Integration for Oil and Gas Companies
Mobile Workforce Plus includes capabilities for your oil and gas company to integrate its data with many different kinds of third-party solutions, including accounting systems like QuickBooks Online. Information collected on the MWP platform, such as timesheet data, vehicle and equipment positions, diagnostics and maintenance checklist data, and customer lists can be synced with the other applications you regularly use. Integrated Fleet and Asset Tracking
Our oil and gas software solution is compatible with Geotab hardware, as well as CalAmp tracking devices for both vehicle and asset monitoring. It's easy to connect these devices, and they work seamlessly in tandem with our software to provide diagnostics on fleet or equipment locations, routine maintenance, driving characteristics by employees who regularly operate company vehicles, and more. Make smarter business decisions with information gathered from secure, integrated fleet and equipment tracking.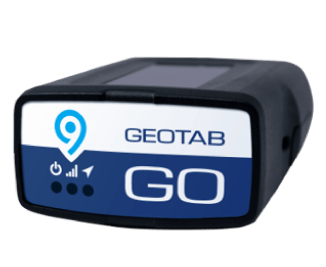 Frequently Asked Questions about Oil and Gas Software for Mobile Forms, Dispatching, and Data Security
Get started today!
A few details and you're on your way to taking your business to the next level.