Software for
Healthcare Workers
Serve patients more effectively with a HIPAA-compliant solution for Electronic Visit Verification (EVV).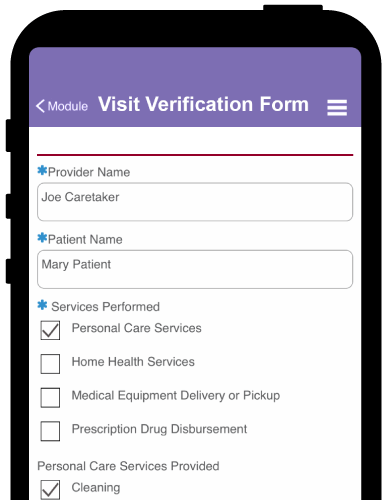 Mobile Workforce Plus offers a collection of features to help healthcare organizations more effectively track their mobile medical staff's patient visits in the field, care for more clients, and reduce the costs associated with reaching them daily. MWP's Vault tier also supports HIPAA compliance, offering solutions for EVV that satisfy requirements with the 21st Century CURES Act.
In the Office
Maintain unparalleled field insight on the operations of your team of nurses or caregivers.
Plan out visit schedules in advance digitally to reduce downtime and ensure proper healthcare service.
Reduce paperwork costs and delays via digital forms that are faster to process.
In the Field
Monitor the near real-time positions of your mobile nurses and caregivers during working hours.
View the locations of your company's medical vehicles at any time of day for greater security.
In an emergency, quickly redirect your closest available employees to the location in question.
Your Customers
Increase the reliability and accessibility of your healthcare services to patients with a versatile solution for assigning caregivers.
Provide better, more immediate service if critical situations occur regarding patient health.
Reach customers smarter and more efficiently via a single software that makes managing mobile medical staff easier to do.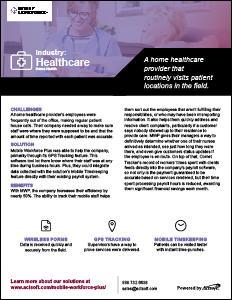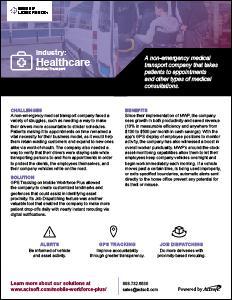 Essential Features for Healthcare Companies
Essential Features for Healthcare Companies
The six key data points required to be tracked for both Personal Care Service (PCS) and Home Health Care Nursing services (HHCNs) are:
Patient name
Date
Location
Type of service performed
Home health provider's name
Start and end time of delivered care
Mobile Workforce Plus EVV helps your team of mobile caregivers track each of these automatically through its Wireless Forms feature.
Additional benefits of Mobile Workforce plus EVV:
Help reduce instances of insurance fraud.
Eliminate overbilling.
Enhance worker safety.
Keep accurate visit times.
Integrated Fleet and Asset Tracking
Our healthcare solution is compatible with Geotab hardware, as well as CalAmp tracking devices for both vehicle and asset monitoring. It's easy to connect these devices, and they work seamlessly in tandem with our software to provide diagnostics on fleet or equipment locations, routine maintenance, driving characteristics by employees who regularly operate company vehicles, and more. Make smarter business decisions with information gathered from secure, integrated fleet and equipment tracking.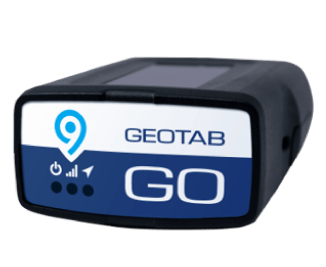 Frequently Asked Questions about Healthcare Software for Scheduling, Tracking, and Compliance
Get started today!
A few details and you're on your way to taking your business to the next level.