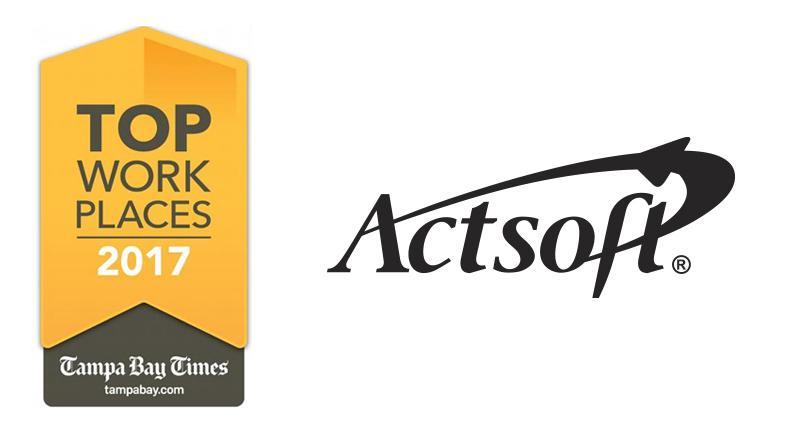 Just like in previous years, Actsoft has once again been recognized as a Top Workplace in Tampa Bay, FL. Earning recognition for nearly five consecutive years, Actsoft has continued to establish itself as one of the premier workplaces within the region. The Top Workplaces contest is an annual competition wherein 100 businesses within the Tampa Bay area are recognized as being some of the best places to work. After sharing information about our business, a survey was sent out to everyone in the company, so they could share how they feel about working at Actsoft.
After a few months of waiting, Actsoft was not only chosen to be a Top Workplace in Tampa but has also placed 37th out of the 100 businesses recognized in The Tampa Bay Times. The Times chose to highlight some of the thoughts shared by employees that truly capture what makes Actsoft one of the greatest places to work in Tampa Bay:
"I work with great people and have very understanding managers. I feel I can learn and grow here and I am not worried about job security. I feel I can retire here and love the benefits they offer. "

"It's fun and wonderful."

"I am empowered to do what is needed to get the job done quickly and efficiently."
Words like these embody what it means to be a part of this Actsoft family. This achievement could not have been possible without the contributions of every employee, within the survey and within their day-to-day commitment to pushing Actsoft forward.
Actsoft Celebrates International Heritage Day
Recently, Actsoft celebrated its inaugural "International Heritage Day," where the company recognized the international backgrounds that make up over a quarter of our employee body.  Each participant in International Heritage Day was asked to submit five facts about their home country, which were then hung around the company breakroom. These facts ranged from the term "boondocks" originating from the Filipino word bundok (meaning mountain) to Alexander Hamilton having been born in a small, two-island nation known as St. Kitts-Nevis.
The participants were also encouraged to make and bring in a dish representative of their country's culture. The entire company was treated to tastes and smells from across the world, with some participants bringing in more than one dish. The amount of food shared left everyone with full stomachs and to-go plates.
Kevin Thigpen, Actsoft's chief operating officer and the driving force behind International Heritage Day, had this to say about the festivities:
"Actsoft has a very diverse workforce, with twenty-nine (29) percent of our Tampa-based employees who were either born in a foreign country or their parents were born outside of the United States.
"It was extremely important for the company to celebrate our international diversity and embrace the cultures that represent Actsoft.
"With today's current rhetoric across the nation, it is important for our employees to know that Actsoft respects and appreciates their international backgrounds.
"It was equally important for our overall employee base to learn about these different cultures and international countries. Actsoft is expanding internationally, so teaching employees through fun facts and international cuisine helps prepare us for understanding and respecting differences represented by so many international cultures."
It is the embracing of differences at Actsoft that cultivates an environment where people not only feel welcome, but also are galvanized to succeed in their daily tasks and push the company to new heights.  Actsoft is and will continue to be a collective of diverse individuals striving to remain a top workplace in the Tampa Bay area.
Have any questions on how Actsoft can help you?
About the author : Scott Englert