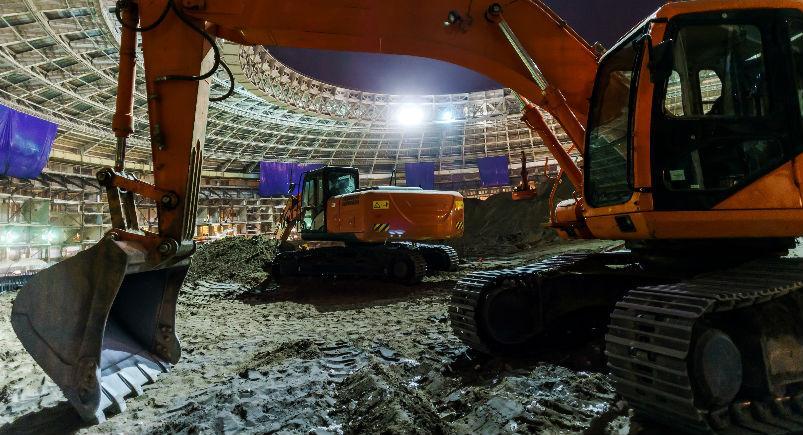 The Los Angeles Rams were one of the hottest teams heading into the NFL playoffs this year. Sporting an 11-5 record, the team relied on a high-octane offense that featured all-star running back Todd Gurley, second-year quarterback Jared Goff, and veteran wide receiver Sammy Watkins. However, these Rams have only been in California since 2016 due to a recent franchise relocation from St. Louis, Missouri, and because of this, the team currently plays its home games in Los Angeles Memorial Coliseum at the University of Southern California.
A college stadium obviously isn't ideal for a professional football team like the Rams to play at in a long-term sense, especially given the fact that the once-San Diego Chargers also recently moved to Los Angeles in an effort to expand the NFL's market presence. As a result, construction on a singular, shared new arena for both respective organizations is currently underway in Inglewood, California, and it's certainly no small endeavor. According to the L.A. Times, the building project for Los Angeles Stadium at Hollywood Park is worth 2.6 billion dollars, which will make it one of the most expensive NFL stadiums ever constructed. The L.A. Times also makes mention of the project encompassing much more than just the arena, as a whole host of different residential areas, hotel, retail, and office spaces are also planned for development. The stadium itself is expected to be completed in 2020, and both the Rams and Chargers are no doubt excited to get settled into their new gridiron palace in just two more years.
With building projects as massive and as expensive as this, accountability for workers and effective cost management wherever possible can be integral to a successful job done. For construction-related businesses, Actsoft's products can aid greatly in ensuring the exact locations of a construction company's most valued equipment is always known through GPS monitoring and geofencing technology. A staple piece of heavy construction machinery such as a bulldozer is easily able to reach tens of thousands of dollars in price per unit alone, making theft prevention crucial. Using geofences, supervisors are given the unique capability to draw borders on city maps and power to set parameters for where their vehicular equipment is and isn't allowed to be at certain times. This can put more control and stability in the hands of the company's leadership, especially when it comes to asset protection. Building companies that construct in large cities, in particular, can use geofencing because of its precision in sprawling metropolitan areas, and the technology also has many applications for arena-style build projects such as the aforementioned Los Angeles Stadium.
In short, Actsoft seeks to provide the construction industry with all the tools it needs to empower its corporations with efficiency and safety alike. The partnerships that Actsoft has forged with reputable companies in the business work together to create a better world for future generations to enjoy.
 
Have any questions on how Actsoft can help you?
About the author : Andrew Forest
Drew Forest is a writer, marketer, and content creator. He enjoys traveling, fantasy football, and watching Tampa Bay sports teams win championships.