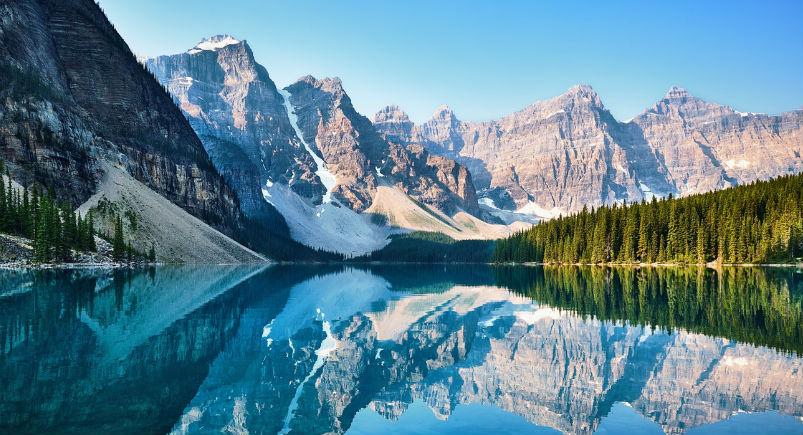 North America is home to some of the most breathtaking national parks in the entire world. Sculpted mountains, idyllic lakes, and diverse flora span as far as the eye can see, drawing in travelers craving a taste of serenity from all around the globe. At locations such as these, feeling awestruck is a routine occurrence, and becoming truly in touch with nature's sheer tranquility alters perspectives forever. Here are three of our favorite national parks in the entire continent.
1. Banff National Park, Alberta, Canada
Rising from the misty, snow-capped peaks of the Canadian Rockies, Banff National Park is one of Canada's most valued natural treasures. The park lies west of Calgary, Alberta, and contains bodies of water such as Lake Louise and Moraine Lake, whose crystal blue shades resemble those of a tropical Caribbean shoreline. Complementing these shimmering pools with a backdrop of mountainous, snowy cliffs and lush alpine foliage, Banff truly is one of the most beautiful destinations to visit in the northern hemisphere.
2. Yosemite National Park, California, United States
Yosemite National Park is nestled within California's Sierra Nevada Mountains. Here, massive slabs of rock and cascading waterfalls dot the horizon, which is home to a diverse range of wildlife such as coyotes, American black bears, Sierra Nevada bighorn sheep, and mountain lions. Nearly 90 different mammal species inhabit Yosemite National Park, and some of the park's premier landmarks include Mount Dana and Cathedral Rocks. Yosemite's encompassment of a glacier pairing also allows for its rivers and lakes to constantly be fed with fresh water. Respectively named the Lyell Glacier and the Maclure Glacier, they're the only two that are still left at Yosemite, and both play an essential role in keeping the surrounding ecosystems healthy.
3. Grand Canyon National Park, Arizona, United States
Grand Canyon National Park is situated in northern Arizona, but the entirety of the canyon technically stretches across six states: California, Nevada, Utah, Colorado, Arizona, and New Mexico. This massive geological phenomenon is visited by millions of people every year, with each visitor hoping to get a premier glimpse at some of nature's finest handiwork. The Colorado River slices through the Grand Canyon's rust red–colored gorge, crafting spectacular views that leave guests speechless from nearly 8,000 feet up. Being one of the most iconic national parks in the world, Grand Canyon National Park is a must-see destination for seasoned travelers and novice voyagers alike.
Resource Conservation Meets 21st Century Efficiency
As some of the most beautiful places on Earth, it's crucial that our civilization does everything it can to protect these national parks for future generations to enjoy. At Actsoft, we take pride in doing our part to keep habitats clean by equipping companies with practical solutions designed to help them conserve time, money, and natural resources all at once.
Features of our digital solutions such as Wireless Forms eliminate any hassles associated with traditional documents like high annual paper costs, risks in losing vital paperwork, and rising amounts of material waste. The average pine tree produces around 80,500 sheets of paper, and if a business has 250 employees who each individually use around five pieces of paper per business day, that can result in the loss of just over four trees on a yearly basis. After multiplying this number of annually used trees by every single 250-person company in the U.S. alone, it's easy to see how going wireless can slash costs and natural resource consumption drastically. By transitioning your company's data onto a single electronic system, simplify your information flows, gain enhanced efficiency, and stand as an industry leader in making our planet a cleaner place to live.
GPS Tracking from Actsoft also allows you to better plan your business vehicles' routes to and from job sites in the field. Strategically routing company vehicles for the most fuel-efficient and money-saving paths to work locations reduces your fleet's carbon footprint, while also lessening gasoline expenses.
In next Monday's blog post, we'll take a more detailed look at how positively contributing to a cleaner world can save your business time and money. In turn, we'll demonstrate how specific features of Actsoft solutions can greatly assist companies who are looking to achieve all of these things.
Have any questions on how Actsoft can help you?
About the author : Andrew Forest
Drew Forest is a writer, marketer, and content creator. He enjoys traveling, fantasy football, and watching Tampa Bay sports teams win championships.