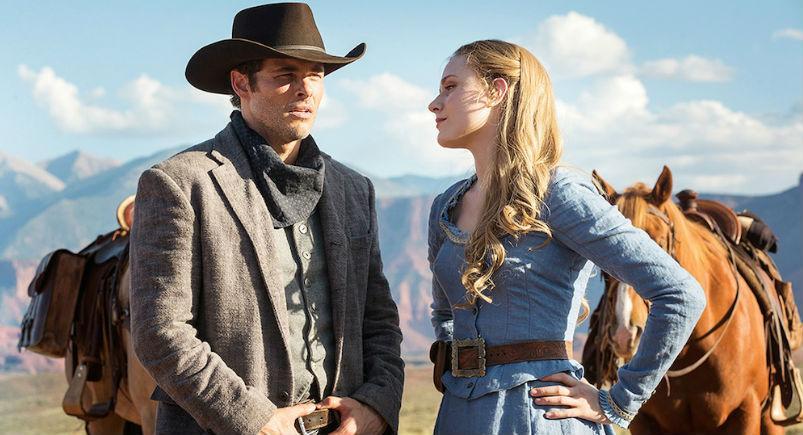 In late 2016, HBO fans were introduced to a fantasy world that reinvented the classic western, adding an element of science-fiction to the concept we're all familiar with. "Westworld," based on the 1973 film of the same name, is about an expansive, immersive theme park that caters to the elite. Those who are willing (and able) to shell out the hefty price of admission are treated to a cornucopia of possibility, where the only limit is their imagination.
On April 22, fans will once again be whisked away into this western reverie-cum-reality. The theme park, which spreads across enough land to encompass multiple towns, stretches of desert, and shows absolutely no sign of modern civilization, is sought after by people looking to lose themselves in an experience that allows them to leave their lives behind, if only for a little while.
Westworld is populated mostly by highly advanced animatronic "hosts," who are so incredibly lifelike, it's virtually impossible to distinguish them from flesh-and-blood human beings. The guests are treated to whatever western-themed outing they are looking for, be it an old-fashioned showdown with a bad guy or an afternoon of companionship at a saloon.
While the guests are allowed to lose themselves in the fantasy that Westworld is, behind the scenes is an entirely different matter. The scientists and technical experts responsible for creating the hosts also came up with a way to keep constant surveillance over the hosts. The puppet masters, so to speak, monitor the park at all times, assuring that robots are functioning properly, to the standard of patrons, and that any abnormalities are able to be addressed expediently and with as little interruption as possible, so as not to break the illusion.
In many ways, this front-end/back-end relationship we see here reflects the experience of using our software in your business's day-to-day. When you have a staff that largely works in the field — the hosts, so to speak — you need a way to make sure they remain on task, regardless of who is or isn't there to monitor in person. GPS Tracking gives managers back at the office the inside scoop on where their employees are at any given time. In other words, if they're supposed to be with a customer at a certain time, you can make sure they're on track for that appointment and, if there are any delays, customers can be notified.
Knowing where employees are also lets you choose wisely when tasking new job assignments. Reviewing the GPS coordinates, along with the open work orders for the day, managers can easily assign new projects to the person that makes the most sense, in order to maximize efficiency.
And making the switch to wireless forms over the wasteful use of piles of papers isn't just a great choice for environment-minded folks. The clarity of forms filled out digitally, versus sheets filled out with illegible and/or smudgeable (not to mention, easy to misplace) script, guarantees smoother processing once submitted to managers; this, in turn, reduces the chances of inputting misinformation on file, therefore minimizing the threat of customer disputes.
Much like in the fantasy world portrayed by "Westworld," our solutions help to simplify an otherwise complicated undertaking, so the experience you are delivering to your customers runs as smoothly as possible. The processes remain on top of any potential hiccups, and the end result is a satisfied customer that is none the wiser about anything that happened behind the scenes.
Season 2 of Westworld returns April 22, 2018, on HBO.
Have any questions on how Actsoft can help you?
About the author : Joshua Pramis
Joshua Pramis is a writer and editor with an affinity for all things travel, tech, and food. His work has appeared on Travel + Leisure, Conde Nast Traveler, Digital Trends, and the Daily Meal, among other outlets. When he's not at home canoodling with his cats (which is typical), you'll find him running races, exploring new locales, and trying out different food venues in St Petersburg, Florida.