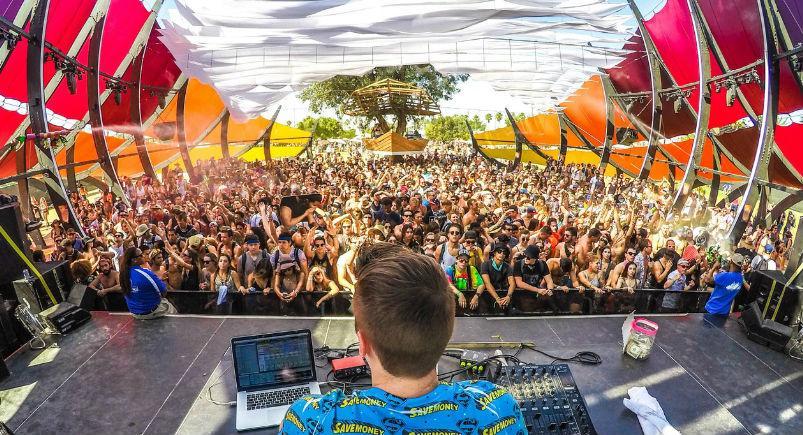 Every year, thousands of music fans don their elaborate bespoke flower crowns and haute hippie dresses, fire up their selfie sticks, and flock to the Empire Polo Club in Indio, California, for one of the biggest festivals of its kind: Coachella.
The see-and-be-seen carnival of melodic performances began taking over this once-sleepy town in the Colorado Desert nearly 20 years ago. For two weekends every April, concertgoers are treated to back-to-back concerts spread across a half dozen stages, showcasing everything from pop to hip hop to EDM and beyond.
In 2017, roughly 250,000 people joined in on the spectacle. By the end of the weekend, at least that many will have attended this year's, thanks to the draw from big names like Beyonce, Eminem, Jamiroquai, and Post Malone, among others.
Pulling off such a lavish festival takes an extraordinary amount of planning leading up to the event, plus a ton of work behind the scenes. And as long as everything goes according to plan, no one in attendance is even aware of, or deigns to think about, any of this production work. And that's because, with proper procedures carefully laid out and an established flow of tasks lined up to be completed in proper sequence, you stand a much larger chance of executing the job without a hitch. (Or, with as few as possible.)
When it comes to complicated situations that involve the input and support of multiple individuals, a dedicated system for managing your workforce is essential. As a company owner or team leader, it's impossible to keep your eyes on each member of your staff every step of the way. (And, frankly, it's beyond inefficient.) But having access to specialized tools, like the ones that Actsoft provides, gives management instant at-a-glance insight into exactly where their staff is physically, what they have done/are doing, and even (with the latest Form Workflows feature) a series of checks and balances to assure that things are done properly before projects are advanced to the next stage.
Fleet Tracking keeps tabs on all your costly vehicles, so you can always see their whereabouts, as well as keep up with regular maintenance needs. And Asset Tracking provides the same tracking capabilities for any equipment that may prove to be an easy target for thieves. As far as functionality, that's just the tip of the iceberg for what Actsoft can do for your company.
You don't have to be in charge of coordinating a Coachella-sized event to reap the benefits from Actsoft's tools. Big or small, particularly when the work is remote, our tools can streamline most of your processes, saving time and money, and relieving an immeasurable amount of stress.
And hey, who knows? Maybe your next project will be the catalyst that brings about the next generation of Coachella-like events. Start small, plan big, right? Using our software could help take you there.
Have any questions on how Actsoft can help you?
About the author : Joshua Pramis
Joshua Pramis is a writer and editor with an affinity for all things travel, tech, and food. His work has appeared on Travel + Leisure, Conde Nast Traveler, Digital Trends, and the Daily Meal, among other outlets. When he's not at home canoodling with his cats (which is typical), you'll find him running races, exploring new locales, and trying out different food venues in St Petersburg, Florida.