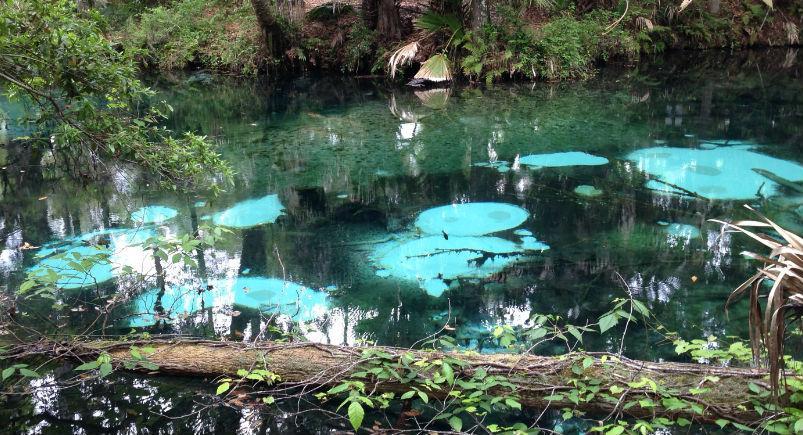 As we've discussed in the past, it's our mission to help your business run as smoothly as possible, while also eliminating waste. With the reduction of physical waste, your company can collectively contribute to the betterment of the planet and environment and, in doing so, see better financial returns.
For example, if you have a fleet of vehicles, the last thing you want is for your drivers to be running their trucks with abandon. Idling needlessly burns fuel, thereby chipping away at your bottom line. On top of that, fumes are pumping into the air when they don't need to be. With our software, you can set up alerts to monitor your drivers' behaviors and take appropriate action if need be. This way, you're able to lower your company's fuel consumption, while also doing your part to lessen your carbon footprint.
To continue our celebration of the natural wonders of the world, this week we're highlighting the best swimming holes from around the country. These natural bodies of water have a habit of showing up in the most awe-inspiring places, and time and again are served up against spectacular backdrops.
Sliding Rock, Brevard, North Carolina
What better way to kick off your tour of swimming holes than with one that doubles as a waterpark? Just 40 miles southwest of Asheville, this place is less about lazing about in the water all day, and more about a naturally occurring 60-foot-long smooth boulder that doubles as Mother Nature's waterslide. Visitors patiently wait in line — yes, there is actually a formal queue set up, with on-duty lifeguard — eager to slip across the rock's slick surface and plunge into an eight-foot-deep pool of frigid water.
Queen's Bath, Princeville, Kauai, Hawaii
Situated adjacent the ocean, this tide pool — replete with schools of fish and other oceanic critters — is actually a sinkhole that was created when a lava tube collapsed and subsequently filled with water. Queen's Bath is accessible only after a bit of a hike, part of which includes traversing rocky terrain, so be sure to bring reliable footwear. Year round, this swimming hole is a beautiful and serene excursion, but you'll want to avoid it in the winter months. From October through May, the surf can be exceptionally severe, making a visit here hazardous.
Homestead Crater, Midway, Utah
Not all watering holes are for cooling off in. This one is located within a 55-foot-tall volcano-shaped cave, formed some 10,000 years ago. The mineral-rich waters below remain consistently heated to a sizzling 90–96 degrees. The manmade entrance into the cave lets you stroll in at ground level, so don't worry about rappelling down. Once inside, you're welcome to swim, snorkel, or scuba dive in the sultry waters; you can even sign up for a paddleboard yoga class.
Juniper Springs, Ocala National Forest, Florida
Pack your camping gear for this spring, because it's located smack dab in the middle of a picture-perfect recreation area, complete with facilities such as restrooms and canoe rentals, so you'll probably want to book a site and spend a few days here. Hundreds of springs of varying sizes bubble up to form the sprawling swimming hole, surrounded by a canopy of palm and oak trees.
Chena Hot Springs, Fairbanks, Alaska
Another that isn't going to cool you down, the beauty of this one is that it's accessible year-round, despite Alaska's bitter cold winters. The intense concentration of minerals here is said to have healing powers; whether you believe that or not, one indisputable fact is that a dip in the pool is beyond relaxing. Bonus: Stay at the resort for a possible late-night glimpse of the Aurora Borealis, the greatest natural light show on the planet.
Have any questions on how Actsoft can help you?
About the author : Joshua Pramis
Joshua Pramis is a writer and editor with an affinity for all things travel, tech, and food. His work has appeared on Travel + Leisure, Conde Nast Traveler, Digital Trends, and the Daily Meal, among other outlets. When he's not at home canoodling with his cats (which is typical), you'll find him running races, exploring new locales, and trying out different food venues in St Petersburg, Florida.