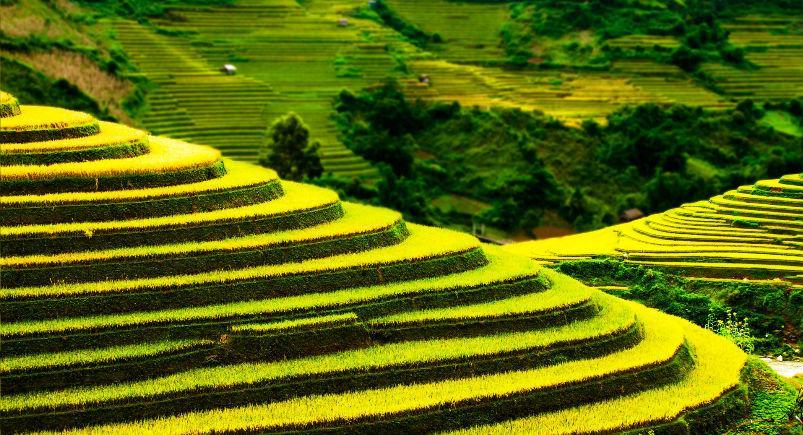 As we've discussed over the past few weeks, one of the lasting benefits from our solutions is the ability to dramatically reduce your company's carbon footprint. Casting aside archaic paper forms in exchange for more efficient, eco-friendly digital forms; better choosing which employee to dispatch to job assignments based on proximity; and getting control of unnecessary idling time from your drivers all cut back on unnecessary waste. Plus, making these seemingly small changes also puts a lot of money back into your pocket.
This week, in continued celebration of the environmental impact our solutions help to impart on the world, we're taking a look at some of the most stunning mountains from around the globe. These soaring peaks have provided a never-ending supply of inspiration, for artists and adventurers alike, and it's no surprise why.
Vinicunca, Peru
Also known as Rainbow Mountain, it doesn't take long to figure out where its moniker hails from. Its terrain is "painted" in a vibrant array of colors not commonly found on a mountainside; we're talking stripes of lavender, turquoise, yellow, and maroon. Buried deep within the Peruvian Andes, it can be surprisingly difficult to find, despite its unique coloring, so hiring a local guide is probably the best bet. Spend a few days in Cusco, just four hours north, ahead of time to help acclimate to the altitude before embarking on the trek to the peak.
Matterhorn, Switzerland and Italy
Straddling the border of Switzerland and Italy, this bluff is most recognizable from the Swiss side, where its snowy peak towers above the rolling green hills below. Often said to be the most-photographed mountain in the world, it's advised that you do so from a safe vantage point. (Read: from the ground.) Trekking to the top is only for the most-experienced climbers with top-notch equipment. However, there are lifts in the area that scoop visitors up to an elevation of more than 12,700 feet, for some truly breathtaking, up-close views of the goliath.
Mount Fuji, Japan
The tallest mountain range in Japan, this peak is almost instantly recognized by all as it's become an iconic symbol of the region. (Plus, it was named a UNESCO World Heritage site in 2013.) While impressive in scope, Mount Fuji is actually easily accessible for hikers of all skill levels, though it's suggested that those with less experience stick to the official climbing season, which runs from early July through mid-September, when conditions are safest. Huts line the trails and, for a nominal fee, travelers can break for meals, brief rests, or sleep.
Mù Cang Chải, Vietnam
Never before has rice been so beautiful. The name actually references an entire region filled with rice terrace fields carved into the sides of mountains, rather than one specific ridge. The resulting effect — during grain season, from mid-September through mid-October, when the rice is fully ripe — are mountainsides covered with vibrant, perfectly manicured steps of yellows and greens. It's a sight unlike any other and draws in thousands of visitors each year. Conversely, visit earlier in the year during the rainy season (May and June), to see the mountainside steps flooded, resembling mirrored steps ascending the cliffs.
Ama Dablam, Nepal
The less-famous sibling to Mount Everest, this Himalayan peak holds its own. The 22,349-foot-tall mountain's name translates to "mother's necklace"; its name comes from the extended peaks on each side, which resemble a mother's open arms, and a hanging glacier on the southwest side, which bears a resemblance to a sacred pendant traditionally worn by Sherpa women. Climbing to the summit is no easy task, but we're perfectly happy admiring its splendor from the comfort of the ground.
Have any questions on how Actsoft can help you?
About the author : Joshua Pramis
Joshua Pramis is a writer and editor with an affinity for all things travel, tech, and food. His work has appeared on Travel + Leisure, Conde Nast Traveler, Digital Trends, and the Daily Meal, among other outlets. When he's not at home canoodling with his cats (which is typical), you'll find him running races, exploring new locales, and trying out different food venues in St Petersburg, Florida.