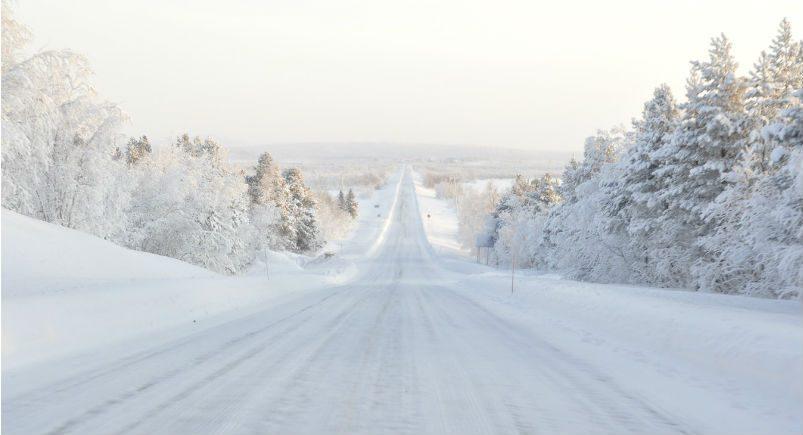 They say the only guarantees in life are death and taxes. But for drivers, there's another guarantee they're always faced with: less-than-desirable conditions on the road due to inclement weather. This is especially true during the colder winter months, when a nefarious storm can wreak havoc on a run-of-the-mill drive, transforming it into a course straight out of Mario Kart. (Blue shells not included.)
Driving in the winter months — a time when road conditions can morph from normal to slick with ice in a matter of minutes — can be especially problematic for companies with a mobile workforce. Added precautions need to be taken (e.g. reducing speeds, warming up vehicles, etc.), all of which can impact daily operations. Here are some of our suggestions to help keep your drivers safe on the road while keeping your business running as smooth as possible.
Clean off your vehicle.
This one may seem obvious, but as anyone who has driven after a snowfall can attest, the practice is not universal. Don't just clear enough so you can see out the front and rear windows. Take care of the roof, the hood, all of the windows, and even the bumper. Unexpected snow and/or ice whipping off vehicles and onto others is a hazardous, easily preventable catalyst for accidents.
Check that battery.
Believe it or not, plummeting temperatures can directly impact the health of your vehicle's battery. This can be especially detrimental to electric or hybrid vehicles, reducing the distance you can travel on a single charge. Before the extreme weather hits, have your battery inspected and make sure it's up to snuff. (And if you're driving a hybrid, always have ample gasoline in your tank, just in case.)
Fill up your reservoir.
We're talking about the windshield-wiper fluid, of course. This stuff goes fast in the winter months, so make sure you always have plenty on hand; choose a quality winter blend that will help aid in de-icing your windshield. And, while you're at it, check those wiper blades to make sure they're up to par for the double (or triple) duty they'll be pulling.
Increase your distance. 
In prime conditions, you should generally be shooting for a vehicle following distance of about four seconds. But when roads are covered with slick snow or that dreaded black ice, it's best to increase that to roughly ten seconds. This way, you'll have more than double the reaction time in the wake of any mishaps.
Keep moving. 
While attempting to strong-arm your way up a slick hill by speeding can just result in spinning wheels that take you nowhere, coming to a complete stop can also leave you stranded or (worse) sliding back down from where you came. However, do be sure to slow down as you reach the peak of the hill so your descent on the other side can be slow and steady.
Keep your tracking devices working properly.
Just like in cases of extreme heat, arctic temperatures can have adverse effects on your smart device. When your tracking device of choice is a phone, this can usually be avoided by making sure your crew keeps their devices with them when they depart their vehicles. But if you prefer, say, a securely mounted tablet, consider investing in something like the GPSLockbox Atmos cradle. This innovative mount was designed to restore tablets to functioning temperatures, whether by warming them up or cooling them down.
Driving in the winter months can be a little more daunting than normal, but it certainly doesn't mean that mobile businesses need to come screeching to a halt. Just be sure you and your crew adhere to these extra precautions and it'll be business as usual. For even more winter driving tips, head on over to AAA.
Have any questions on how Actsoft can help you?
About the author : Joshua Pramis
Joshua Pramis is a writer and editor with an affinity for all things travel, tech, and food. His work has appeared on Travel + Leisure, Conde Nast Traveler, Digital Trends, and the Daily Meal, among other outlets. When he's not at home canoodling with his cats (which is typical), you'll find him running races, exploring new locales, and trying out different food venues in St Petersburg, Florida.