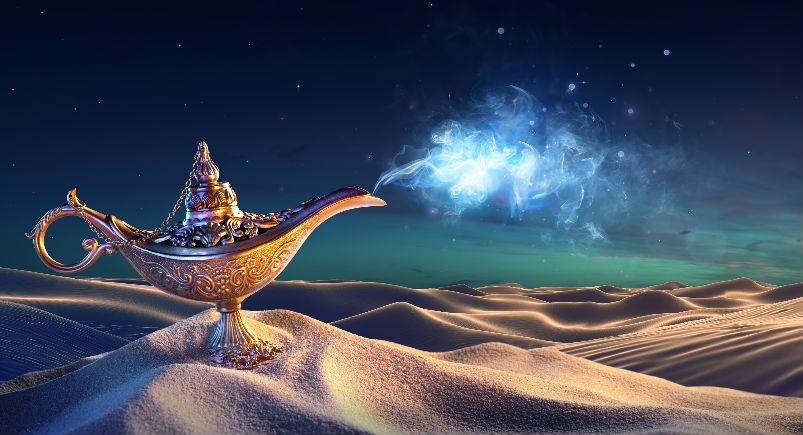 More than a quarter century ago (Yikes!), audiences worldwide were introduced to Disney's interpretation of the 18th-century story of Aladdin. The somewhat dark, yet still lighthearted (thanks to a slew of catchy tunes and a slapstick-happy Genie) tale is set to once again dazzle the big screen as part of Disney's recent trend of reimagining its classics, using advanced technology to cast these age-old stories in an entirely new light.
Aladdin is a magical rags-to-riches tale. Most of you know the story: The title character is tasked with the mission of retrieving an enchanted (unbeknownst to him) golden lamp and, in doing so, he inadvertently releases a mystical, powerful genie who is bound to the unassuming treasure. For freeing the genie, he's rewarded with three wishes.
With his sights set on the Sultan's stunning, witty, and street-savvy princess, Aladdin's first wish is to be elevated from his rather humble lifestyle and transformed into a powerful, successful prince. And the story continues on from there.
We all have our reasons to strive for excellence in the world today, whether it's for love, like Aladdin, or something entirely different. But you don't need the help of some magical genie to raise yourself up as you trek the path to success. You simply need a solid business idea, a foolproof plan, and the right tools to help you along the road.
Think of Encore as the genie and its suite of tools as the magic that helps your business realize its maximum potential. You've already done the hard work. You've established the foundation by launching your business, and you've already seen success in your field. Our solutions simply give you an easier way to take this success to the next level by helping you to affordably maximize the efficiency of your processes.
If your field workers are still carting around bulky, cumbersome paper forms to fill out at job sites, think of the benefits from making the switch to our Wireless Forms. First, you reduce the burden of keeping track of all those physical sheets, along with eliminating the cost of constantly purchasing more paper. Decision logic speeds up the filling-out process by helping workers skip unnecessary sections, and back-end processing is further sped up because there's no waiting around for forms to be hand delivered (Poof! It's at the office.), nor is there holdup due to confusion from illegible handwriting.
We also make it easy to set up a wide range of alerts that help keep you constantly in the loop. For example, in conjunction with Geofences (virtual boundaries that can be established around various geographic sites), you can be informed if workers are leaving job sites faster than Princess Jasmine when she hightails it out of the Sultan's palace. This helps keep your team accountable for their whereabouts. And you can be notified should your costly equipment suddenly vacate the premises, helping to reduce instances of theft.
Speaking of theft, should equipment or vehicles go missing, installing our Fleet and Asset Tracking devices can be the simple solution that stands between a quick, full recovery of your property and you having to head to the Cave of Wonders to replace it.
While our solutions may not exactly be as fantastical as a magical genie erupting from an ancient lamp to grant wishes on demand, they do have their own transformative powers. We barely dived into the plethora of offerings we have here. But we're standing by to help you discover just how these, and the rest of them, can help bring your business the wishes it desires.
Have any questions on how Actsoft can help you?
About the author : Joshua Pramis
Joshua Pramis is a writer and editor with an affinity for all things travel, tech, and food. His work has appeared on Travel + Leisure, Conde Nast Traveler, Digital Trends, and the Daily Meal, among other outlets. When he's not at home canoodling with his cats (which is typical), you'll find him running races, exploring new locales, and trying out different food venues in St Petersburg, Florida.