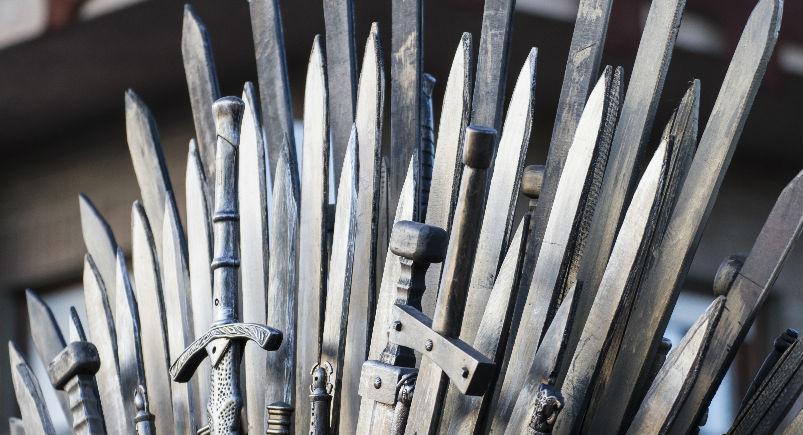 Unless you've been living under a rock for the last eight years, you're at least somewhat familiar with the HBO series "Game of Thrones." Regardless of whether you watched the medieval fantasy, it was —and continues to be — virtually impossible to avoid the seemingly constant chatter that infiltrated every form of media through the years. It almost always centered around fan theories: What was going to happen next? Who would ultimately lay claim to the prized Iron Throne? As of late, however, the conversation has taken a sharp turn as fans discussed what they liked or absolutely hated about this week's finale.
Regardless of how you felt about the finale, if you were watching, then you undoubtedly spent the last eight years traversing the peaks and valleys of this epic adventure. You were there for the highs and the lows, the wins and the losses, and the deaths. The many, many deaths. Along the course of this journey, you may have noticed a couple of themes that went hand-in-hand with victory. While we can pretty confidently say — and we hope we're right — that your business practices are nothing like the events that transpired in the fantastical world of Westeros, there are some takeaways from their strategies that you can carry over into your day-to-day practices … with our help and modern updates, of course.
First, the people leading the pack were always in the know. They knew where their people were. They knew where the most important landmarks were. And they knew the best routes to travel. Having this information, more often than not, was key to helping them come out on top.
With our GPS Tracking feature, we give you the insight to always be on top of the same type of information. Knowing the positions of the workers that are manning your "front lines" puts you in a much better position to win at the game of business. Having the near real-time locations of everyone in the field, plotted on a live map, gives you high ground against your competition, allowing you to quickly and easily identify the person best positioned to fall out and take on a new work order. This gives customers more incentive to give you their business since they'll have a better idea of when they can expect service to arrive.
Second, they were able to relay messages to necessary parties much faster than anyone else. This gave them a leg up in terms of changing strategies based on evolving conditions, rather than taking the risk of entering a situation that became potentially more dangerous than they previously thought.
Now, in Westeros, this was accomplished rather precariously with ravens. We use Intra-Company Messaging, which lets you instantly send important messages to one person, or a group of people, through a secure network. So, when major changes arise that could affect schedules, priorities, or even worker safety, all necessary parties are informed at once, assuring that the whole team is on the same page. And with our method, you never have to worry about an arrow strike getting in the way of your message.
With the help of our suite of solutions — and the absence of dragons, direwolves, the Dothraki, and feudal sabotage — you'll find yourself in a much better position to lead the charge to reign supreme in your field.
Have any questions on how Actsoft can help you?
About the author : Joshua Pramis
Joshua Pramis is a writer and editor with an affinity for all things travel, tech, and food. His work has appeared on Travel + Leisure, Conde Nast Traveler, Digital Trends, and the Daily Meal, among other outlets. When he's not at home canoodling with his cats (which is typical), you'll find him running races, exploring new locales, and trying out different food venues in St Petersburg, Florida.