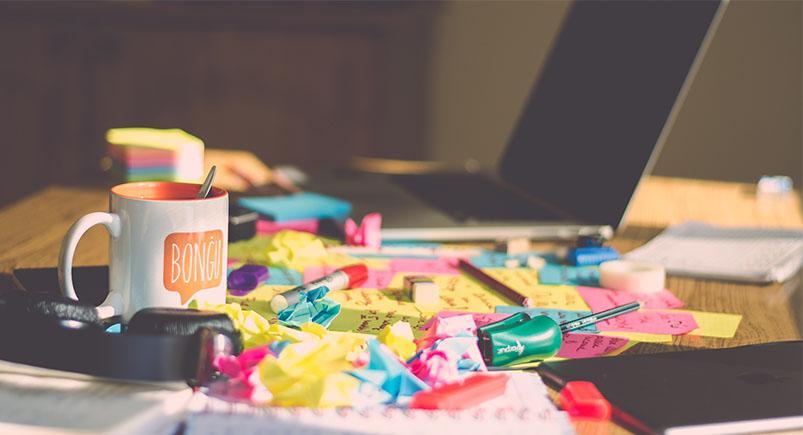 According to scientists at Princeton University, the answer is a resounding, "Yes."
Results of a study conducted by researchers at Princeton University Neuroscience Institute published in The Journal of Neuroscience concluded that clutter may restrict one's attention, the ability to process information and the ability to focus on a task.
The report reads: "Multiple stimuli present in the visual field at the same time compete for neural representation by mutually suppressing their evoked activity throughout visual cortex, providing a neural correlate for the limited processing capacity of the visual system."
Using functional magnetic resonance imaging (fMRI) and other physiological measurement tools, researchers were able to observe the brains' responses while they were performing tasks in both a cluttered and uncluttered environment. The results were clear, showing that if you want to function at your highest level, be most efficient, and complete tasks accurately and thoroughly, then a de-cluttered space is the optimal environment.
How can offices around the world use this research to create a more productive environment? One way is to get rid of unnecessary paper, tablets, notebooks, and calendars in favor of software solutions. Aaah … your desk feels better already.
Imagine a dispatcher using notebooks to keep track of drivers' phone numbers, schedules, vehicles, deliveries, and more. It's easy to visualize a desk overflowing with clutter. By cutting through this mess of papers, binders, and calendars, you'll foster a space that allows your team to get their work done smoothly.
Smart, reliable, inexpensive, and — most importantly — clutter-free tools like those found in our suite of tools are ideal alternatives to messy paperwork. Plus, your team can communicate in near real-time, making dispatching, scheduling, and delivering an orderly process.
Features you'll love:
Create recurring schedules for work to auto-generate assignments to be dispatched directly to your workers.
Automatically send new order notifications, inform customers that a worker is on the way, and provide proof of delivery/work completion, including signature and pictures.
Make changes with ease. Order sequencing allows you to add new jobs to existing schedules or make adjustments on the fly. Simply drag orders up or down to rearrange as needed. Workers will receive notifications and schedules will instantly reflect changes.
Easily see the schedules and availability of your workforce, with calendars to see scheduled work for your employees and customers.
Have any questions on how Actsoft can help you?
About the author : Actsoft Team
Actsoft's team of industry experts have their fingers on the business world's pulse. It's our mission to deliver the latest news to keep you and your leaders on top of the latest trends, further helping you to excel and exceed your goals.