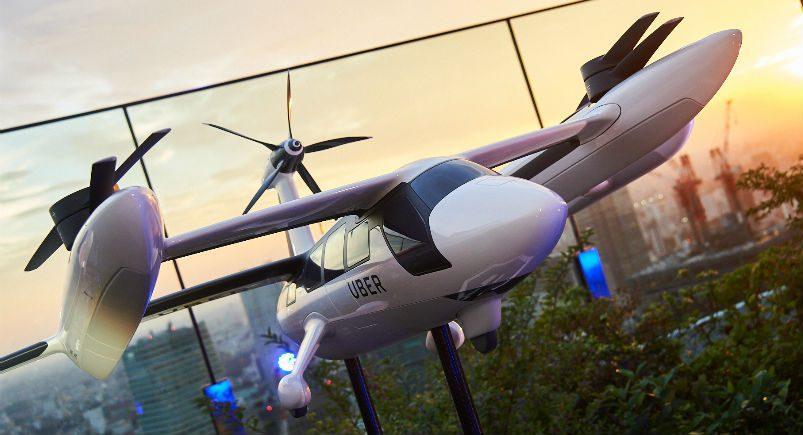 Uber unveiled this week that the third test city to be added to the list of its long-anticipated "flying taxi" service will be on the other side of the globe, in Melbourne, Australia. (The first two being stateside, in Los Angeles and Dallas.) If you haven't been following the story, the hugely popular ride-sharing company — which revolutionized the way we all think about taxi services — has long been touting its plans to take to the skies, offering users a virtually traffic-free ride experience. (As it stands, Uber is already set to whisk people to and from JFK Airport.)
The designs for the taxi, recently unveiled at the company's annual Elevate conference, reveal what can only be described as an airplane-helicopter hybrid, with a sleek, futuristic vibe that channels everyone's favorite space toon: the Jetsons. It'll be at least four years before we even see this innovative new option take flight, according to Uber, but it's still exciting to know changes like this are on the horizon.
This type of thinking — never being satisfied with the status quo — is what catapulted Uber from a "nobody" startup to a major tech leader. The company developed a genius way to completely change an industry that was virtually untouched for decades and its popularity sparked like wildfire. Where other companies may be satisfied at the rapid success, the powers that be at Uber know that real success comes from constant innovation, from always looking for ways to push their business in new directions.
In that same line of thought, our software serves as a means to help push already successful businesses forward. With our suite of solutions, we don't purport to provide expertise in every single industry. Rather, what we do is give businesses in virtually every industry imaginable the means to vastly improve their processes. We give you a way to maximize your efficiency — through use of features such as Wireless Forms, Job Dispatching, Timekeeping, and others — in order to make the most of what you've already built on your own.
One of the great benefits from our solutions is their ability to help you shave precious time off each of your tasks. This saved time creates the opportunity for you to take on even more business, which helps to boost your bottom line. But in addition, some of that saved time can be devoted to ideating, crafting new ways to take your business to an entirely new level, much in the same way the folks at Uber continue to do.
We never stop working on ways to improve our software and roll out even more features that exist to help you make more money. We hope that our role in helping you simplify everyday tasks can also play a part in the greater evolution of your business.
Have any questions on how Actsoft can help you?
About the author : Joshua Pramis
Joshua Pramis is a writer and editor with an affinity for all things travel, tech, and food. His work has appeared on Travel + Leisure, Conde Nast Traveler, Digital Trends, and the Daily Meal, among other outlets. When he's not at home canoodling with his cats (which is typical), you'll find him running races, exploring new locales, and trying out different food venues in St Petersburg, Florida.