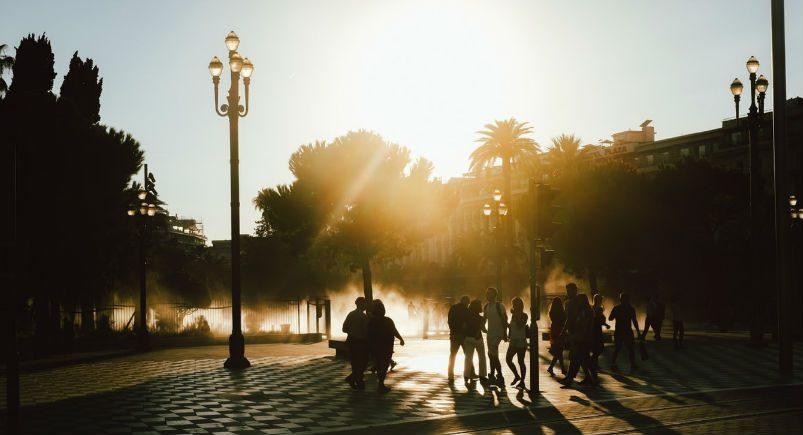 It sure looks like it's gonna be another hot one out there, eh?
Ah, weather. That go-to, default topic reserved especially for workplace conversations when, well, frankly you aren't sure what else to talk about in a given situation. (Think: when you're waiting for the elevator to finish its slow crawl to your floor so you can finally be on your way.)
Well, that's typically the case anyway. But if you've been paying attention to the news in recent days (or years, really), then you know the weather is actually a hot-button topic. Right now, Europe is not-so-eagerly awaiting its second bout of record-breaking temperatures expected to hit next week. This comes just three weeks after the first heat wave of the year, which saw an all-time high temperature in France.
Stateside, the Midwest and East Coast are both bracing for impact, so to speak, as temperatures are expected to soar into the 90s and 100s over the weekend, with the possibility of surpassing even 110 degrees in some areas, and there is little expected relief to look forward to even after the sun dips below the horizon. (It's so bad, New York City actually canceled its much-anticipated triathlon this weekend, the first time its ever had to do this.)
Of course, this is on par with an apparent influx in severe weather many have been experiencing in recent years, whether it's storms hitting harder and more frequently than they ever have before, or sparse amounts of regular rainfall helping fuel rampant wildfires.
Depending on your business, weather can have a severe impact on your day-to-day operations. If you're flying blind, so to speak, you might find yourself at a bit of a loss when chaos throws your plans into disarray. But you'll find yourself in a much better position if you have a management system in place that helps you easily oversee your employees' activities throughout the day.
For example, should the weather result in one or more emergencies warranting immediate attention, you can use GPS Tracking to determine which team member(s) are best positioned to handle the situation. Then use our Job Dispatching feature to send the new work order(s) and reprioritize so your workers can change course.
If severe weather is impacting your company's ability to do its job due to safety concerns, you can quickly disperse a secure, team-wide message to the masses, giving them important updates — such as telling them to pack up and seek shelter — that help to make sure everyone receives the same message across the board.
Timekeeping will help you keep track of all those odd hours your workers might be pulling due to weather-related shifts in duties. The GPS stamp on each time punch verifies their locations while on the clock, and you can run ad hoc reports to keep on top of overtime to help make sure it's evenly dispersed, if necessary.
Next time you find yourself at a loss for original conversation, at least you now know that weather can actually be the jumping-off point for bigger, business-related conversation. And hopefully, that conversation eventually leads to further discussion about a solution — our solution — to your weather-related business conundrums.
Have any questions on how Actsoft can help you?
About the author : Joshua Pramis
Joshua Pramis is a writer and editor with an affinity for all things travel, tech, and food. His work has appeared on Travel + Leisure, Conde Nast Traveler, Digital Trends, and the Daily Meal, among other outlets. When he's not at home canoodling with his cats (which is typical), you'll find him running races, exploring new locales, and trying out different food venues in St Petersburg, Florida.