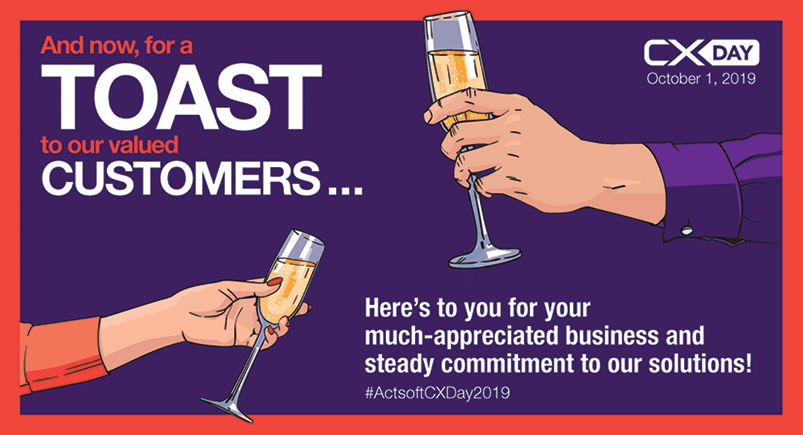 Today, companies around the globe are taking part in an annual celebration of all things customer experience–related. CX Day takes place each October and was created as a way for employees to take a moment and show their appreciation for the customers that are such a huge part of their daily lives and their company's success.
This morning, we kicked off our own CX Day celebration and will continue to host mini-events throughout the day which are intended to be both fun and a reminder to the importance it is to always deliver excellent service to our customers.
We started off with a heartfelt thank you and virtual toast to our customers, delivered through each of our social platforms. (You'll also see it at the top of this post.) You, our customers, are why we're here and we want to make sure you know just how much we appreciate you.
Staff activities include:
Educational Workshop
Team members are encouraged to break up into groups and create various customer personas. Using these personas as training tools is an effective way for us to learn how to best serve the many personalities we interact with on a daily basis.
Meme Contest
Taking our love of memes — who doesn't love these? — representatives craft fun plays on some of the popular templates we're all familiar with. They have to represent or reinforce quality customer relationships. Afterward, everyone votes on their top three favorites.
Closing Celebration
This is when we get to review the lessons learned from the day's activities. What did our team take away from the persona exercise? What did the meme generation remind us about our responsibilities as customer experience representatives? We top it off with a toast to our team after handing out awards.
We were excited to see so many other companies taking part in their own activities to show customers how much we truly appreciate them. Thank you for being a part of our celebration and our everyday lives.
Have any questions on how Actsoft can help you?
About the author : Joshua Pramis
Joshua Pramis is a writer and editor with an affinity for all things travel, tech, and food. His work has appeared on Travel + Leisure, Conde Nast Traveler, Digital Trends, and the Daily Meal, among other outlets. When he's not at home canoodling with his cats (which is typical), you'll find him running races, exploring new locales, and trying out different food venues in St Petersburg, Florida.