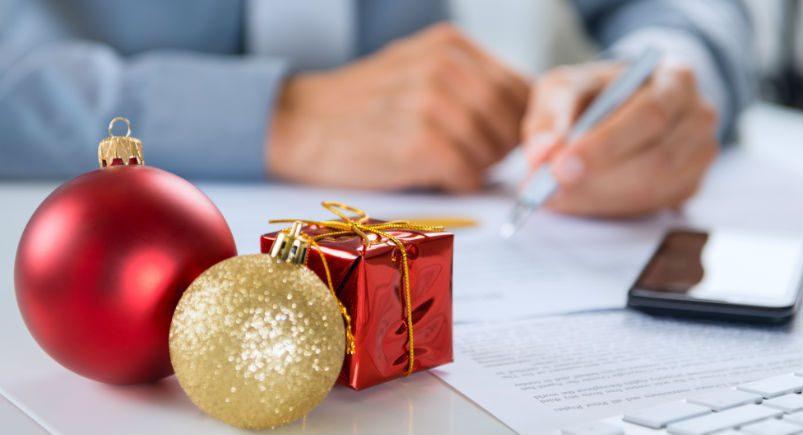 This time of year can be stressful for everyone. As the temperatures continue to drop and the holidays draw ever closer, there are myriad factors — both inside and outside the workplace — that can really lay on the pressure, cause tensions to rise, and negatively affect job performances across the board. This is the time when people stress out about things like finances, increased production expectations due to seasonal vacations, and even the trepidatious road conditions they're constantly faced with.
As an employer, it's in your best interest to do whatever you can to facilitate productivity at your company. One of the best ways to do this is to keep your employees happy and as stress-free as possible. Here, a few simple extra steps you can take to help make this happen.
Schedule time off well in advance.
When the holidays roll around, it's not ideal to have last-minute time-off requests. Your employees may feel extra pressure if they suddenly discover they're needed to help out due to unplanned PTO. During this notoriously busy vacation time, it makes sense to require that employees submit requests ahead of time. You're left with plenty of time to schedule accordingly, and your team has time to mentally prepare for busy days.
Schedule an event.
A holiday-related celebration for employees gives them something to look forward to; a light at the end of the tunnel, so to speak. If business demands allow for it, hosting during regular office hours makes it even more appealing.
Provide food.
It's a small gesture, but it goes a long way. Buying lunch for the team on an especially busy day — and making sure they have some work-free time to enjoy it — can be a gesture that prevents someone from reaching their breaking point.
Ease up the dress code.
If you have a stringent dress code — and interaction with clients allows for it — loosen up some of the rules this time of year. You'd be surprised at how much a simple thing like wearing jeans can do to boost morale.
Think about deadlines.
Not everything has a hard deadline, so if there's a project that can be pushed back or expedited, let your team know. Give them the flexibility to work at an efficient pace. And try not to assign big projects that require a last-minute scramble. Personal lives are exceptionally busy as well this time of year, so the simple act of being mindful of deadlines in relation to the approaching holidays can make all the difference.
Give them the gift of efficiency.
Our suite of tools helps make any workplace a much more efficient place to be, lifting a lot of the stressors that can bog your team down. With features that help manage workloads — especially beneficial during this busy holiday season — and make tedious processes more expeditious, our solution can help your team accomplish more while feeling less overwhelmed.
It's the little things that can make a big difference in the moment. But it's the long-term planning that makes a huge, lasting difference. Happy holidays!
Have any questions on how Actsoft can help you?
About the author : Joshua Pramis
Joshua Pramis is a writer and editor with an affinity for all things travel, tech, and food. His work has appeared on Travel + Leisure, Conde Nast Traveler, Digital Trends, and the Daily Meal, among other outlets. When he's not at home canoodling with his cats (which is typical), you'll find him running races, exploring new locales, and trying out different food venues in St Petersburg, Florida.