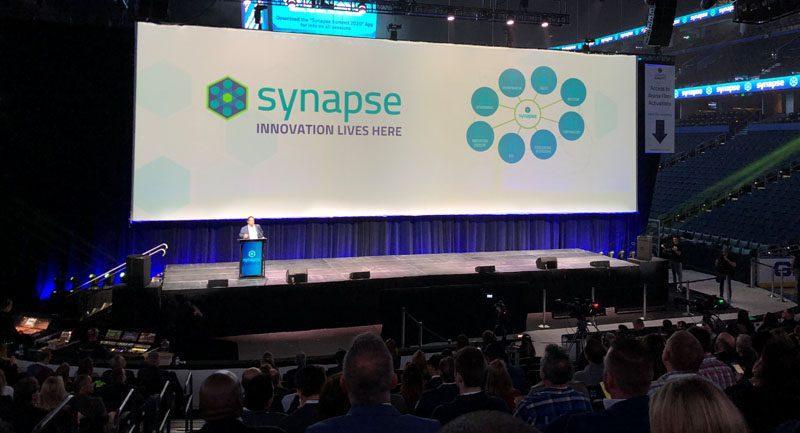 Last week, a few of our staff members were treated to an incredible experience, gaining the opportunity to attend the 2020 Synapse Summit at Amalie Arena in Tampa, Florida. As a convention for all things entrepreneurial and technological, the Synapse Summit gave our team the chance to take a couple of days to learn more about startup business and city development as a whole in the Tampa area.
Speakers at the event included Jeffrey Vinik, owner of the Tampa Bay Lightning, Sara Blakely, founder and CEO of Spanx, Jeff Hoffman, founder of Priceline.com, and Steven Currall, president and CEO of the University of South Florida, just to name a few. Each keynote brought a unique perspective to the table about scaling a company, personal growth, and the future of business. Separately from the main stage speakers, smaller breakout sessions took place, with industry experts offering discussions on topics ranging anywhere from trends in healthcare to new advances in military applications.
Out of all the valuable information the Actsoft team received at the Synapse Summit, one of the most crucial things we took away from the event was that the Tampa tech community is truly sprawling, and we're so proud to be a part of it. Getting a chance to see where many of the industries our mobile workforce management solutions play in are headed was also immensely beneficial, as we plan to take our findings to the drawing board in an effort to continue pushing the boundaries of what our solutions can do.
The Synapse Summit reminded us as a company that the future is brighter than ever, not just for local developments in technology, but more specifically, the future landscape of software as a whole. We've returned from it inspired and rejuvenated, ready to provide an application that provides even more return on investment for your mobile workforce.
Have any questions on how Actsoft can help you?
About the author : Andrew Forest
Drew Forest is a writer, marketer, and content creator. He enjoys traveling, fantasy football, and watching Tampa Bay sports teams win championships.