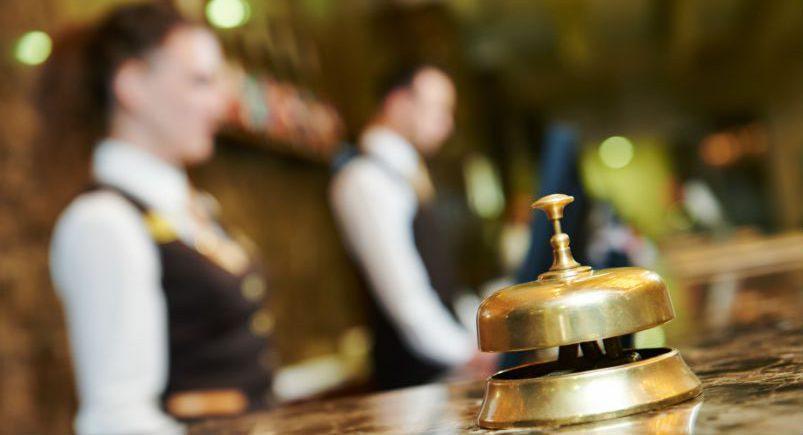 In hospitality, implementing practices to keep both staff and customers safer remains critical, especially during this time. The issues hotels face, from lost revenue to having to run with a smaller employee count, present additional challenges for them to have to control. However, using Encore, our most powerful application, hospitality businesses can put in place additional safety protocols and optimize their operational costs at the same time, two key tactics to help curb many present difficulties. These three features of Encore can help the service industry the most:
Timekeeping
With Timekeeping, employees can clock in and out from a mobile device, without the need for a stationary time-punch system, such as a fingerprint or hand scanner. This can help reduce risks to safety and also provide a way for staff to get started with their days quicker. It's always imperative to optimize labor costs, but even more so when fluctuating amounts of staff are working due to the current circumstances. Reduce unnecessary overtime expenses and keep both patrons and your hospitality staff safer with Timekeeping on Encore.
Intra-Company Messaging
Intra-Company Messaging makes it easy for managers to electronically communicate with their staff on the fly. For hotels, this feature enables guest services staff to let housekeeping employees know which rooms have recently been checked out of, allowing them to constantly remain at the front desk when assigning rooms that need to be cleaned. This is even more beneficial currently, as only a few floors of a hotel property may be open at a time due to recent safety measures. Limited availability of rooms makes it critical that newly vacant ones are attended to efficiently, in order to maximize revenue.
Wireless Forms
Efficiently document processes using Encore's Wireless Forms capability. This feature enables your team to easily build and exclusively use digital versions of all your business's paperwork items, cutting paper expenses, eliminating manual handoffs, and allowing you to document information more dynamically. For hotels, housekeeping staff can capture photos of serviced rooms and attach them to electronic forms, helping managers verify they were effectively cleaned before checking in a new guest. Plus, maintenance documents can be filled out digitally, helping mechanical problems get fixed fast and with more detail involved.
Let your hospitality business adapt to virtually any working scenario using these three key features of Encore. Timekeeping, Intra-Company Messaging, and Wireless Forms are just three of the tools our all-in-one solution provides to help you keep your customers happy, costs under control, and operations running smoothly.
Have any questions on how Actsoft can help you?
About the author : Andrew Forest
Drew Forest is a writer, marketer, and content creator. He enjoys traveling, fantasy football, and watching Tampa Bay sports teams win championships.