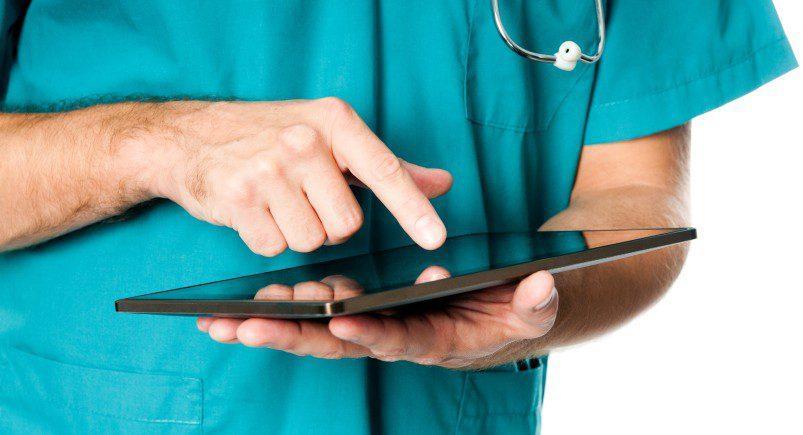 Though states have begun to reopen as new cases of COVID-19 infections saw a drop, it may be more important for healthcare providers to be more on top of safety precautions than ever, as people are beginning to go out and about their daily lives in more public places.
With that in mind, we'd like to remind you that the tools we've been providing for years can help you do just that, giving healthcare workers the option to complete some of their job duty requirements with less need for physical contact between themselves and their colleagues. Plus, the Encore Vault version of our software had been through additional security precautions, meaning that it supports HIPAA compliance, so you can be assured that your customer's confidential information remains secure.
Wireless Forms
There's no reason to use paper to collect information from your patients. Not only will a switch to our digital forms save you money, but they also help you reduce the potential for the spread of contamination since you eliminate the need to physically hand off paperwork for processing. Instead, just fill out forms on personal mobile devices and submit them to administrators for review with the tap of a button. We also recently rolled out our Employee Safety and Wellness Program, which includes a whole portfolio of pre-made Wireless Forms to help with tasks like contact tracing, hygiene, and vehicle sanitation. You can read more about that here.
Mobile Timekeeping
If you have hourly staff, don't make them use physical time clocks. With so many people using the same device, they can be breeding grounds for the spread of illness. Instead, let them use our Timekeeping feature, which allows them to record their hours using their mobile devices. Plus, each time punch is GPS-stamped, so you know they're where they're supposed to be when clocking in, adding extra layers of accountability and security.
Job Dispatching
Working in home healthcare? This is the perfect way to distribute tasks to your team. You can view an easy-to-read chart that shows all of your team's scheduled visits for the day, plus their status, and assign new cases that come in based on availability and proximity. You can even reassign tasks with a simple drag and drop; they'll receive an alert of the change right on their mobile device.
GPS Tracking
This isn't about playing Big Brother. But keeping track of your employees' whereabouts, particularly when they're making house visits, is important. If one should become ill, you can quickly pull up a breadcrumb trail detailing their visits to provide additional checks on those customers just to make sure nothing was inadvertently spread.
Together, we can help each other return to some semblance of normalcy, so we can keep doing work to help others, and do it as safely as possible.
Have any questions on how Actsoft can help you?
About the author : Joshua Pramis
Joshua Pramis is a writer and editor with an affinity for all things travel, tech, and food. His work has appeared on Travel + Leisure, Conde Nast Traveler, Digital Trends, and the Daily Meal, among other outlets. When he's not at home canoodling with his cats (which is typical), you'll find him running races, exploring new locales, and trying out different food venues in St Petersburg, Florida.