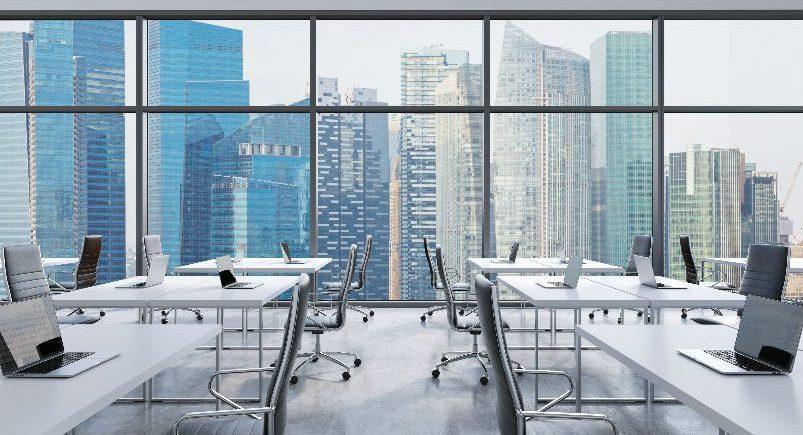 Prior to allowing your employees to return to the workplace, it's essential to have a plan in place to mitigate health risks associated with the ongoing pandemic. Protecting the safety and wellbeing of your staff helps keep productivity high for your company, allowing it to operate in a more fully staffed environment. However, the compliance aspect of a return to the office is just as important. Using these steps, as well as our software, you can ensure your business is in lockstep with OSHA guidelines when crafting a revised Business Continuation Plan (BCP) for your workforce.
Install physical safeguards
Putting in stations with hand sanitizer and disinfectant wipes, as well as plexiglass shields where necessary and signs encouraging regular hand washing are just a few examples of ways you can help keep your office space cleaner. With COVID-19 being able to be transmitted both through direct and indirect contact, it's important to use physical safeguards to place a greater emphasis on hygiene in your workplace.
Implement stricter access control and regular screenings
Regardless of whether someone is a visitor or an employee, ensure a screening's been done before allowing them into your office. Our software is equipped with multiple pre-built digital forms to make this process as easy, quick, and thorough as possible. The solution's documents for back to work, coronavirus screening, and contact tracing simplify the information gathering process so you know if an employee or visitor has recently been exposed to COVID-19. They can then be denied access to the building in order to keep the healthy individuals in your office safer.
Factor in employee wellness on an individual level
Use our application to divide your employees into three groups when crafting a revised BCP for your company: Those employees who must stay remote due to health-related reasons, those that can return to the office with certain restrictions, and those that can return to a full-time, business as usual schedule in the office. Doing this allows you to look at the broader scope of things and make more informed decisions about your workforce's operations. Extenuating circumstances for certain employees should also be taken into consideration, however, and helping each of your staff members acclimate to a revised BCP individually can even help boost team morale as a whole during uncertain times like these.
For more information on how to create a revised BCP and what our solutions can do to help, download our latest white paper for free.
Have any questions on how Actsoft can help you?
About the author : Andrew Forest
Drew Forest is a writer, marketer, and content creator. He enjoys traveling, fantasy football, and watching Tampa Bay sports teams win championships.