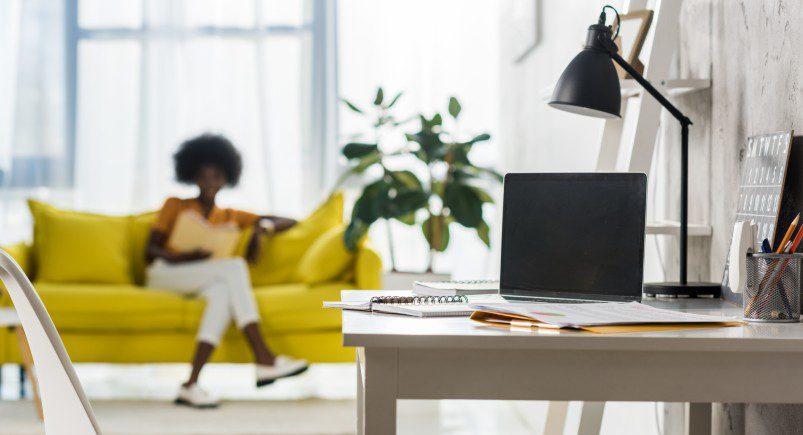 How are you holding up amidst all the changes that were thrust upon us all at the start of this pandemic? Although many companies are well underway with reopening efforts, remote work remains a popular option for businesses that can maintain productivity while lessening any risk. But, despite being a convenient alternative, that loss of a regular in-person office experience — and all the interaction that comes with it — can be a detriment to one's mental health. Following, you'll find six tips that will help you make the most of this situation.
Maintain that water cooler banter.
Of course, it's important to keep up with your workload and that should be every worker's primary concern. But, particularly when working from home isn't de rigueur for you (even after all these months), maintaining those interpersonal relationships is essential. Not only does friendly, non-business-related banter with your colleagues help increase productivity, but it also does wonders for your mental health.
Don't shy away from the camera.
Sure, you might have traded in your slacks for joggers, but resist that urge to stay off-camera during Zoom calls. There's a big difference between a phone call and a video call, and putting faces to those voices you're chatting with — actually seeing your colleagues — gives you a little bit more of a sense of normalcy, even though you're nowhere near each other.
Don't skip your breaks.
Sometimes, when you're working from home, you might feel pressured to be constantly on, as though you have to prove yourself since your boss can no longer see that you're at your desk plugging away. But breaks exist for a reason, and being out of the office is no reason to halt them. You need these times to recharge, clear your mind, and avoid burnout.
Get some fresh air.
When your home and office are the same — especially if you don't have the luxury of a workspace that's separate from the rest of your living space — you should make a habit of getting out for a little while each day, even if it's just for 15-minute increments. Going for a walk or a run or even a bike ride can do wonders to help your well-being.
Try out a new locale.
One of the biggest benefits of remote working is that you can do it from anywhere, as long as you can maintain your focus and productivity. While it can become especially tiring living and working in the same space, take advantage of this opportunity while you can. If you have the option to safely get away and work somewhere else, take it! (Just make sure you adhere to all local pandemic-related travel advisories.)
Know when to call it quits for the day.
Sometimes it can be hard to tread that fine line between being extra efficient and overworking yourself. When you have a work-from-home setup, it can be tempting to continue to check up on your email, or put in extra time finishing that project, after hours. But blurring the lines between your work and personal life can take its toll, causing you to burn out. More often than not, it's best to have a clear end to your day. Those emails will still be there in the morning.
Have any questions on how Actsoft can help you?
About the author : Joshua Pramis
Joshua Pramis is a writer and editor with an affinity for all things travel, tech, and food. His work has appeared on Travel + Leisure, Conde Nast Traveler, Digital Trends, and the Daily Meal, among other outlets. When he's not at home canoodling with his cats (which is typical), you'll find him running races, exploring new locales, and trying out different food venues in St Petersburg, Florida.