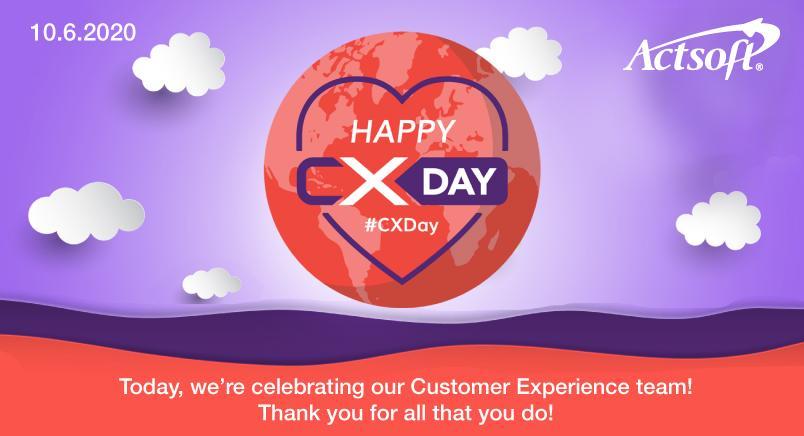 It's that time of year again! Every year, companies around the world take a day to stop and appreciate all the hard work their Customer Experience department provides. Here at Actsoft, these essential members of our teams are our direct links to you, our customers. Whether it's to welcome you about as new customers to help you as you learn to navigate our solution and its ever-changing features, Actsoft's CX team is an integral part of your success … and ours.
To show our appreciation for our dedicated CX team, we wanted to share some of the feedback our customers have shared with us during the last year.
"Virginia and Keith were absolutely fantastic! They took time to understand my issue, consult with me, and brainstorm ways to simplify my solution with the tools available."

"Vincent is very upbeat and gets the job done. It was a pleasure to speak with him."

"Fatima is our Accounts Manager, and she is the best! She is extremely knowledgeable and has amazing customer service skills. Actsoft is so fortunate to have her on their team."

"Always a pleasure working with Brahim! Brahim is our company's #1 support contact."

"Erick is a great advisor. He is professional, patient, and helpful. It is clear he cares about the customers!"

"Actsoft has a great asset on their team! John was the tech that resolved our issue without a hitch. He is definitely a top-notch service provider that customers expect to deal with."

"Anibal was very professional and meticulous in his warm support. It was a great pleasure working with him."

"I can only appreciate the patience given to us people that are computer illiterate. Derrick was extremely cordial, as well as extremely professional. A job well done."

"Florencia is such a good rep. She is always checking in and making sure our company has no problems with the app. Thank you, Florencia!"

"Virginia was very helpful. Excellent customer service. She called me to follow up and took the time to help me build a new report."

"Customer Advisor Diego is very diligent and pays attention to details."

"John was very helpful. He answered my questions and walked me through what I needed."

"As always, Dan does a fantastic job of customer service."

"Linda … simply cannot rest until she knows the customer is … fully operational and happy. She is also still the person the majority of the team goes to when they are out of options."

"Dan, you offer a wonderful service. It has really helped our company to go paperless and to help our field technicians."

"Kendall was very helpful and knowledgeable."

"You need to have more Austins in your customer service department!"

"Darren really knows it all. I get all sorts of questions; sometimes, I read the requests and am not even sure where to begin. I can always count on Darren."

"Matt helps our migration engine run every day by ensuring that [everyone is] supported and [by] pulling data from multiple systems to make our operation smooth. Keep up the excellent work."

"[Erick is] very knowledgeable, provided outstanding assistance, answered all of my questions and helped me get the account situated. I am very satisfied with my experience with Erick."
Have any questions on how Actsoft can help you?
About the author : Joshua Pramis
Joshua Pramis is a writer and editor with an affinity for all things travel, tech, and food. His work has appeared on Travel + Leisure, Conde Nast Traveler, Digital Trends, and the Daily Meal, among other outlets. When he's not at home canoodling with his cats (which is typical), you'll find him running races, exploring new locales, and trying out different food venues in St Petersburg, Florida.