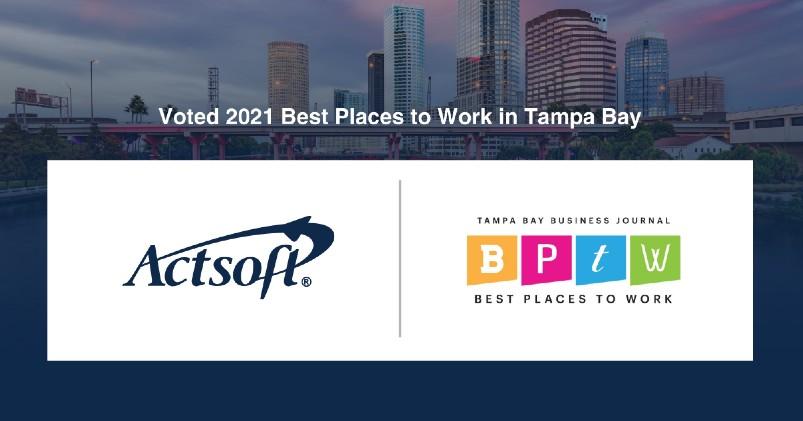 What does it take to be named one of the Best Places to Work in Tampa Bay? Each year, the Tampa Bay Business Journal poses this question to residents. The publication opens up consideration to any local business nominated by at least one employee. From there, a confidential survey is delivered to each employee (based in the area and excluding owners and partners) and a series of qualifying questions are presented to determine workers' honest, unfiltered views of their employer in a variety of categories like teamwork, retention, trust, goals, management, and engagement, among others.
It only took a few days for Actsoft to reach the minimum number of voluntary participants to qualify for the coveted award. (Based on the total number of potential participants, we needed at least 83 employees to opt-in.) Then, earlier this month, it was announced that Actsoft was named one of the top 15 extra large–size companies in all of Tampa Bay.
And we couldn't be more thrilled!
"I'm proud and humbled that my team thinks so highly of their experience working as members of Actsoft's ever-growing family," said CEO Tom Mitchell. "This award is truly a testament to all the hard work and tenacity each team member has shown, particularly during such a challenging year. I'm proud of all of their hard work and dedication, and I'm looking forward to seeing where this year takes us."
Actsoft has long had a family-style approach to running its company, always putting its people ahead of all other priorities. The many challenges presented over the course of the last year especially put those values on display, and the company's response — which included quick-thinking adaptability, flexibility, and stability for its entire team  — was reflected in these survey results.
Being named one of Tampa Bay's Best Places to Work is more than just a fleeting badge of honor to us; it's a recognition that we are successfully continuing to make Actsoft an open, inviting company that people are proud to work for.
For as long as we exist, we will continue fostering this type of atmosphere — which we've managed to successfully maintain even while working remotely through regular communications, both from business and personal perspectives — and pushing ahead with our ultimate business goal: helping other companies realize their full potential.
Have any questions on how Actsoft can help you?
About the author : Joshua Pramis
Joshua Pramis is a writer and editor with an affinity for all things travel, tech, and food. His work has appeared on Travel + Leisure, Conde Nast Traveler, Digital Trends, and the Daily Meal, among other outlets. When he's not at home canoodling with his cats (which is typical), you'll find him running races, exploring new locales, and trying out different food venues in St Petersburg, Florida.