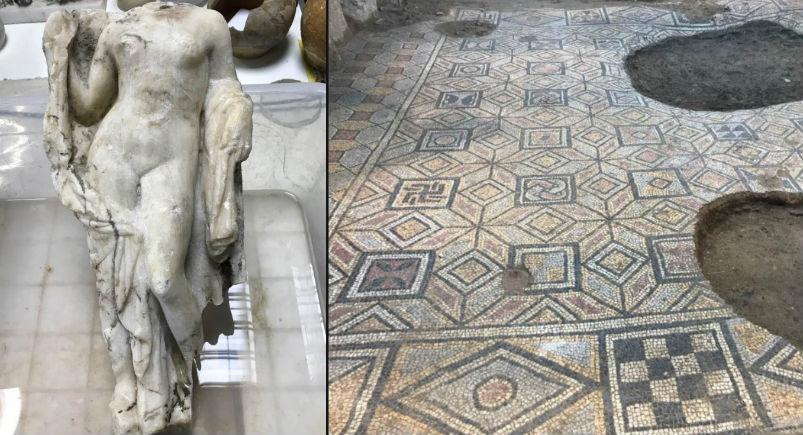 For more than a decade, construction crews have tunneled away in Thessaloniki, an ancient Greek city steeped with history. The painstaking project will eventually yield an expanded, modern metro system to whisk residents and tourists alike throughout a series of underground tunnels. But, with the entire city being a veritable excavation site, this project is an exceptionally massive undertaking, with crews having to tread lightly as myriad archaeological discoveries are made along the way.
To date, more than 300,000 artifacts have surfaced during excavations in the city. The latest came this week, as construction crews worked near the Hagia Sophia, an eighth-century church constructed in the likeness of the Istanbul church of the same name. A headless statue of Aphrodite — the Greek goddess of love and beauty — was unearthed, along with a well-preserved fourth-century floor mosaic.
Efharisto For Visiting
In a destination like Thessaloniki, a region rife with still-undiscovered ancient goodies waiting to be found, regular delays were anticipated from the start — particularly in the wake of sister city Athens' metro installation ahead of the 2004 Summer Olympics. But knowing that there are likely to be delays and then confronting the actual roadblocks as they arise are two entirely different things.
Because of this, construction work in particular requires an incredible amount of foresight and, more importantly, a heavy dose of flexibility. Crews need to be cognizant of the fact that project timetables are, in effect, well-educated guesses and, when the unexpected arises, they need to be ready and willing to make adjustments and keep pressing forward as quickly, efficiently, and safely as possible.
Respect The Sacred Timeline
Actsoft's solutions are ideal for keeping construction projects — unanticipated changes and all — as on track as possible, so you're better equipped to make that goal and move on to the next assignment on time.
As unforeseen tasks arise, supervisors can use our software to quickly message individuals or entire groups as needed, to stop or detour work. They can then easily dispatch new work orders to appropriate crew members, determining assignments based on actual real-time availability. Plus, with these additional work orders being drafted digitally, there's no concern about paperwork being lost in the shuffle. Administrators can see where each assignment is at any given time, thanks to near real-time status changes and mobile connectivity to the cloud.
Make Mismanagement Ancient History
GPS tracking on equipment pinpoints the location of any vital machinery that may need to be commandeered in order to rectify whatever barricade manifests, with alerts set up to assure that these tools stay within a certain, customizable radius (geofence) as needed, and don't wind up going missing, resulting in further delays. Once the surprise project is complete, those alerts can be removed and the equipment released to the next most-needed area.
And our newest feature, Form Workflows, streamlines the process of completing tasks that need input from multiple staffers, including supervisor approvals of fulfilled assignments. Available to top-tier members, each Forms page can be set up so that they are assigned to one of a predetermined list of users as the project moves ahead. If something is missing or wasn't done correctly, a user can reject an assignment and kick it back to the previous person to make adjustments.
So as you wend your way along various avenues to maximize your construction company's course of actions when confronted with a headless Athena, consider the ways Actsoft can best help you reach your final destination with as few bumps as possible.
Have any questions on how Actsoft can help you?
About the author : Joshua Pramis
Joshua Pramis is a writer and editor with an affinity for all things travel, tech, and food. His work has appeared on Travel + Leisure, Conde Nast Traveler, Digital Trends, and the Daily Meal, among other outlets. When he's not at home canoodling with his cats (which is typical), you'll find him running races, exploring new locales, and trying out different food venues in St Petersburg, Florida.