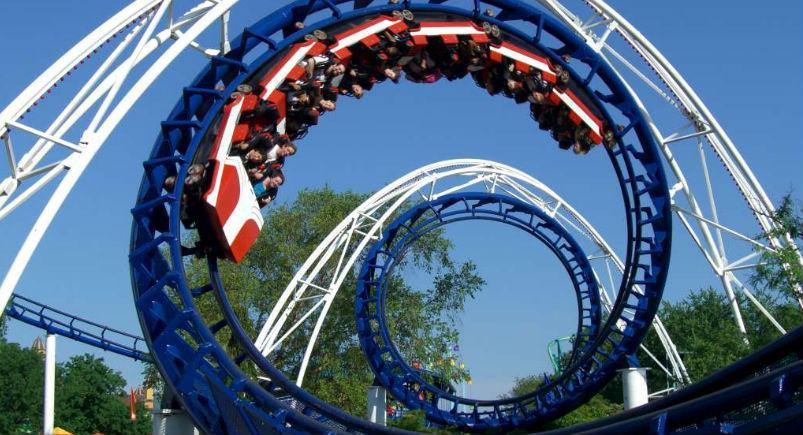 Now is the time of year when families begin to pack up their suitcases and take to the road for their annual vacations. And really, this is the ideal time for it. The weather is at its best, the kids are out of school, and most seasonal destinations are finally open and ready for business.
More specifically, it's during this time that our favorite type of summertime venue opens up nationwide: theme parks. What better way to bond with your family than a trip to some fantastical wonderland replete with thrill-inducing rides, games galore, and all the indulgent food you could dream of?
From a business perspective, with summer getaways comes the issue of coverage, since so many people regularly request to be away from work during this time period. Of course, vacations are extremely important for the betterment of any employee, but you still have a business to run. So how do you manage your workload with just a fraction of your crew?
That's where our software comes into play. It's an ideal means of keeping track of who is available at any given time. With the Timekeeping feature, it's easy to see what workers are clocked in at a glance, so delivering work orders in advance is simple and can be done without question. For last-minute requests that may come in from your customers, simply track which employees are actively on duty at the moment and dispatch assignments according to availability. Or, if you're at capacity for the day, you can easily manage your customer's expectations and schedule them at the soonest time possible. And, if your team is responsible for keeping valuable equipment and/or vehicles at home, our asset and fleet tracking capabilities can give you peace of mind while folks are out of town.
Now that you can rest a little easier as vacation season begins, we wanted to share some of our favorite theme parks from across the country. Each one delivers something different and unique to satisfy any family's taste.
Where: Sandusky, Ohio
Who It's For: Thrill seekers with an affinity for roller coasters
Season: May–October
The self-proclaimed "roller coaster capital of the world," Cedar Point isn't just giving lip service with that moniker. The 364-acre theme park is home to a whopping 18 coasters of various intensities, making it a bucket-list destination for any enthusiast.
Don't Miss: Though it's over in a flash — 17 seconds to be exact — don't forgo the high-speed Top Thrill Dragster. The ride launches with instant force, quickly climbing to, and almost immediately dropping from, a height of 420 feet, reaching a speed of 120 mph.
Where: Pigeon Forge, Tennessee
Who It's For: Anyone looking to cool down
Season: May–September
Whether you want to lounge around poolside after a morning of excitement at the adjacent Dollywood (think: more traditional theme park), or want to keep up with the thrills by going on one of the plunging waterslides, this is the place to go for respite from the intense summer heat.
Don't Miss: Tennessee's first and only water coaster, RiverRush seats up to four guests on a single float and carries you along nearly 1,200 feet of track, through dark tunnels, hairpin turns, and steep drops.
Where: Jefferson, New Hampshire
Who It's For: Families whose love for Christmas is year-round
Season: May–October
Tucked away in a tiny town in northern New Hampshire's White Mountains, this is a prime theme park for parents with younger children wanting to get a taste of what it's like to visit Santa's home at the North Pole.
Don't Miss: Little ones will love the opportunity to chat with the one and only Rudolph, Santa's lead reindeer. This furry animatronic has been a staple at the park for more than 25 years and can actually carry on full conversations. (Or, if you'd prefer the real thing, swing by Reindeer Rendezvous and hand-feed live animals.)
Where: Winter Haven, Florida
Who It's For: Lovers of the classic build-it-yourself toys
Season: All year
What child — or, let's be honest, adult — isn't a fan of LEGO? At this sprawling 150-acre park, the beloved building blocks come to life through a series of LEGO-themed rides, activities, and even larger-than-life characters roaming the grounds.
Don't Miss: Want to see what can be done with 32 million LEGO bricks? Stroll through Miniland USA to see giant recreations of famous U.S. destinations, like New York City, Las Vegas, and Kennedy Space Center. There's even an homage to the classic Star Wars film series, including a replica of the Millennium Falcon.
Where: Hershey, Pennsylvania
Who It's For: Chocoholics
Season: March–January
What better way to satisfy your sweet tooth than an entire park built around everyone's favorite childhood candy supplier? Of course, chocolate can be found around every corner but you'll also find all the staple rides you'd expect at any theme park.
Don't Miss: Learn all about the company that is the reason this theme park even exists. Hershey's Chocolate World is right next door and explores all things chocolate, including the process of transferring cocoa beans into the tasty treats we all know and love. You can even create your own candy bar!
Have any questions on how Actsoft can help you?
About the author : Joshua Pramis
Joshua Pramis is a writer and editor with an affinity for all things travel, tech, and food. His work has appeared on Travel + Leisure, Conde Nast Traveler, Digital Trends, and the Daily Meal, among other outlets. When he's not at home canoodling with his cats (which is typical), you'll find him running races, exploring new locales, and trying out different food venues in St Petersburg, Florida.