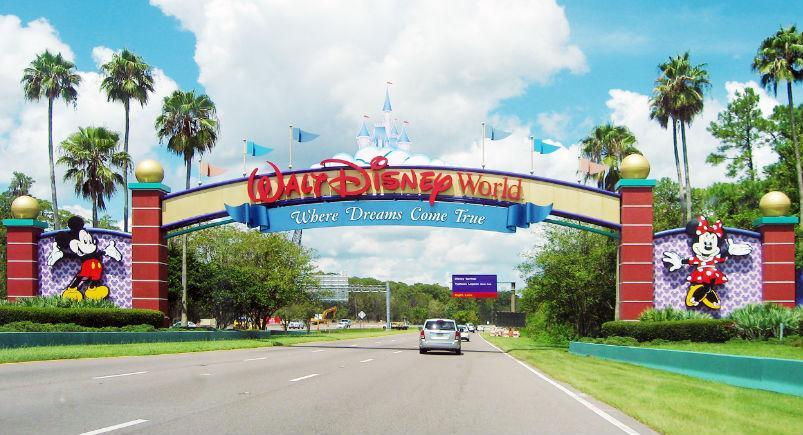 With the kids out of school and the weather universally warmer all over, it makes sense that more people — particularly families — hit the road this time of year. One of the most popular destinations in the country is none other than Orlando's Disney World. Magic Kingdom alone hosts some 20 million visitors every single year, with the peak season being the weeks that fall between Memorial Day and Labor Day.
As you traverse the winding paths of the various parks that make up Disney World, imagine for a minute just how much goes into making your experience go off without a hitch. As they say, the devil is in the details; following are just a few of the lesser-known things Disney officials do in order to maintain all of the illusions put forth at the Happiest Place on Earth.
Cookies in the Air
Ever noticed how, no matter where you are in the Magic Kingdom, smells of fresh-baked cookies or popcorn are constantly assaulting your senses in the best way possible? That's not exactly coming from the food shops scattered around the park. Instead, contraptions called Smellitzers actually pump these scents into the air, evoking a sense of childhood nostalgia in guests. (And they also probably, to an extent, help keep guests in line. Who's gonna misbehave in grandma's kitchen?)
Trashy, Trashy, Trashy
Fun fact: When planning the design for his parks, Walt Disney was such a perfectionist, he actually visited other parks to survey guest behavior. One thing he noticed? People will hold onto garbage for an average of 30 steps before dropping it on the ground. As such, you never have to walk more than 30 steps without finding a trash can. Speaking of waste, ever wonder where the detritus from all those daily thousands of visitors goes? Trash is whipped through pneumatic tubes at about 60 mph, transported to a designated location where it is sorted, and then shipped off to a landfill or recycling plant. Talk about efficient.
Keeping the Illusion
Under the parks are a series of utilidors (utility corridors) that are used, in part, to help keep the fantasy alive. The story is that, back in the day, Walt saw a cowboy cast member waltzing through Tomorrowland at the California park and it upset him. (What would a cowboy be doing in a futuristic landscape?) So when the much grander Florida park was being built, he ordered that a network of underground tunnels be built, so "off-duty" characters could get around the park without being spotted in the wrong section.
Book 'em, Pluto
Unfortunately, even at the Happiest Place on Earth, shenanigans happen. But the last thing Disney officials want is to cause a scene and disturb more park guests than necessary. So when a guest is excessively out of hand, or discovered to be shoplifting, it's said that security will enter quickly and discreetly escort the perpetrator through one of the many doors leading "backstage." At that point, they're kept in a holding room until police arrive, or they may simply be escorted out of the park altogether. Park bans may also result, the length of which is reflected by the severity of the infraction.
While Disney may officially be pretty tight-lipped about many of the secrets that transport guests to a fantasy world, it's all to help maintain the illusion. All that work behind the scenes is for the benefit of their customers.
Similarly, the software we offer helps businesses complete their tasks by adding a deeper level of efficiency behind the scenes. Your customers don't necessarily need to know every step you take in order to get from point A to point Z; what matters is that the experience of taking them from start to finish is as pleasant an experience, and with as few hiccups, as possible.
For example, our latest feature — Form Workflows — allows colleagues to collaborate on projects, with different people taking responsibility for various sub-tasks. This creates a seamless transition between workers, complete with the ability to reject tasks if not completed correctly.
With GPS Tracking, office managers can always keep tabs on, say, drivers on the road, so if customers are wondering when their serviceperson is expected to show up, it's easy to pinpoint their location and give an estimate. Plus, as new jobs come up, the nearest technicians can be assigned, shortening the amount of time before they show up.
And by opting to get rid of paper forms in lieu of going digital, processes are sped up and information is collected much more accurately than when dealing with potentially illegible handwriting.
These are just a small sample of the ways our software can help smoothen out the everyday activities your company does. By making a few changes to your daily processes, you'll quickly start to see big changes in productivity and efficiency. What's more is that your customers will also start to notice these improvements, without needing to know any of the changes made to improve their experience with you.
Have any questions on how Actsoft can help you?
About the author : Joshua Pramis
Joshua Pramis is a writer and editor with an affinity for all things travel, tech, and food. His work has appeared on Travel + Leisure, Conde Nast Traveler, Digital Trends, and the Daily Meal, among other outlets. When he's not at home canoodling with his cats (which is typical), you'll find him running races, exploring new locales, and trying out different food venues in St Petersburg, Florida.