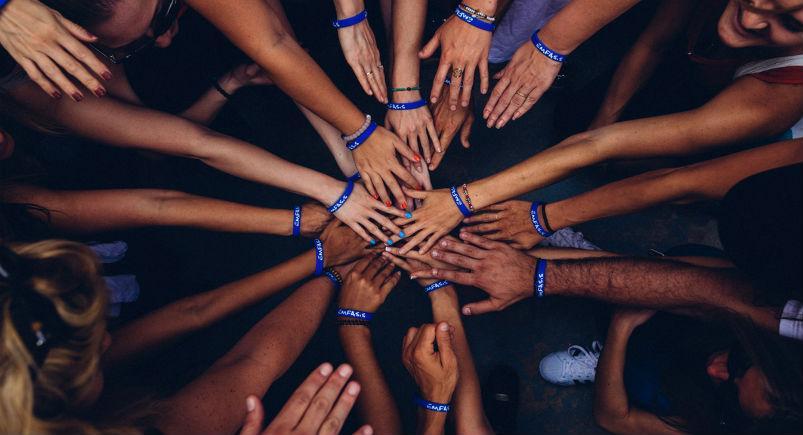 We've discussed at length various topics that play integral roles in contributing to a more positive, effective, and efficient workforce. Today, we're taking a look at another important variable that is absolutely essential to the success of your company: teamwork.
Think of your company as a single machine. A machine is composed of a lot of moving parts. In order for that machine to properly function, each of the moving parts must successfully perform its designated task in tandem with all of the other parts, which are simultaneously fulfilling their functions. If even one part malfunctions, the whole machine begins to break down.
Likewise, you need your crew to work together in order to keep the machine that is your company pushing ahead. Without that symbiosis, you'll eventually come to a standstill. Keeping that in mind, following these tips will help facilitate an increase of teamwork among your staff.
Encourage casual socializing.
Okay, we get it. Not everyone is going to want to meet up to hang with their colleagues outside of business hours. But that doesn't mean you can't come up with ways for your staff to get to know each other on a more personal level. Organizing off-site team-building activities or planning company-wide (or department-wide, depending on the size of your company) lunches can be excellent opportunities for your crew to get to know each other outside of the confines of their work-related to-do lists. This type of interpersonal bonding oftentimes carries over into day-to-day office life and helps increase trust and respect.
Clearly designate roles.
Even if you're a relaxed sort of person and want that reflected in the way you run your office, it's essential to have a definitive outline of everyone's roles and responsibilities. It's virtually impossible to expect your team to work together if it's unclear what each person is ultimately supposed to do. You'll either end up with a lot of confused staff members or you may even find yourself with one or two people that are disproportionately delegating tasks to others, creating animosity that can easily begin to run rampant.
Set realistic, tangible goals.
Give your team something real to work toward. Despite the fact that everyone has different job responsibilities, if you let them know that the company has a specific goal to reach and that they all play a role in helping the company reach it, there's ultimately no choice but to work together in order to cross the finish line. Anyone that wants to be successful in their own position will quickly realize their success is dependent on the company's success, and the company's success necessitates collaboration among all parties involved.
Resist the urge to micro-manage.
Perhaps you're the type that always wants to make sure everything is in perfect order. Likely, that acute attention to detail contributed to your path toward entrepreneurship. But when it comes to day-to-day operations, you have to put your faith in the team you put together, trust that they have the company's (and your) best interest at heart, and resist the urge to interfere. Without you interjecting yourself into every step of the process, employees feel that level of trust increase and also become more empowered to collaborate with each other on ways to best get the job done and further prove their value to you.
Lead by example.
This is probably the most important rule on the entire list. You can't expect that your staff will be encouraged to work symbiotically if you're not doing the same. Sure, you're the big boss, but you're also the most vested in the success of the company, so it's your responsibility to work with your team to make sure business is running smoothly, voices are being heard, and that your role in the company is seen by everyone. Most importantly, this delivers the message that you're not just the person at the top delegating orders to everyone else; it reminds them that you're all a part of the same team.
With just a few simple adjustments, your team will start to naturally develop better teamwork habits that will ultimately contribute to the continued success and growth of your company.
Have any questions on how Actsoft can help you?
About the author : Joshua Pramis
Joshua Pramis is a writer and editor with an affinity for all things travel, tech, and food. His work has appeared on Travel + Leisure, Conde Nast Traveler, Digital Trends, and the Daily Meal, among other outlets. When he's not at home canoodling with his cats (which is typical), you'll find him running races, exploring new locales, and trying out different food venues in St Petersburg, Florida.