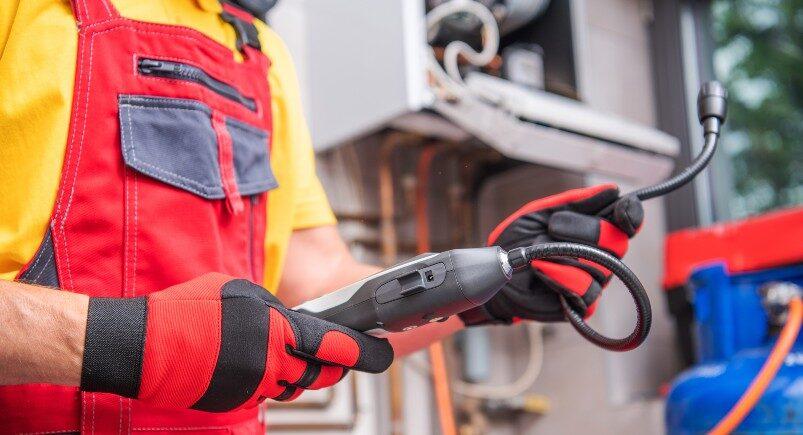 The HVAC industry is a vertical that's constantly evolving and modernizing. New technologies are making the processes of heating, cooling, and ventilation more efficient and advanced, while at the same time also easier for both technicians and customers.
Some of the latest and projected happenings in this industry include accelerated growth and an emergence in new concepts/machinery. According to Air Conditioning Contractors of America (ACCA), the HVAC industry is forecasted to increase from $25.6 billion to $35.8 billion in 2030, with an expected 13% increase in HVAC jobs from 2018 to 2028. Construction and demand for efficient energy are the two key factors fueling the growth in both market size and available jobs for the HVAC industry.
Some of the potential challenges the industry could face heading into the future stem from supply chain difficulties and shortages in labor, according to Joanna Turpin with ACHRNews.com. The demand for HVAC services will always be there; the question is, how will companies in this sector respond and effectively handle it? Conducting regular assessments of your operations and ensuring your workforce is optimized from both an output and a labor perspective is an effective way to complete more HVAC jobs and always remain properly staffed.
As far as new technologies are concerned, Paul Hill of BUILDER.com reports that several new ideas are set to become even more common in the future of the HVAC industry, such as fully automated homes and smart homes, greener technologies like thermally driven air conditioning, and sensor-enhanced ventilation. Each of these different types of new tech are geared at improving efficiency, savings, and consumer happiness.
As this industry continues to develop new technologies, work smarter, and grow, workforce management solutions can also play a big role in helping the organizations within it. These types of solutions empower HVAC companies to efficiently take on increased demand and make the most of their existing resources.
How Workforce Management Software Helps HVAC Companies Modernize
Another significant part of the HVAC industry's future is many companies' reliance on platforms to drive a digital transformation of their workforces. Workforce management solutions help HVAC companies optimize the use of their resources, collect data more efficiently, and reduce wasteful business practices.
Workforce management platforms can also help HVAC businesses enhance their customer service management, become more cost-effective in their daily operations, and gain more insight into how their teams of technicians are performing in real-time. By including multiple features to automate the costly, time-consuming manual processes that hold HVAC businesses back, these types of apps are essential for running a streamlined operation. Here are a few key features of workforce management solutions like ours that are especially relevant for the HVAC industry.
Key Workforce Management Features for HVAC Businesses
Dispatching Software: Electronically schedule assignments for your technicians or reroute available technicians to new jobs directly from the field. Planning work orders digitally and ahead of time helps you optimize your workforce's productivity and gain a clearer picture of who can take on new customer requests on the fly.
Mobile/Remote Timekeeping: Give your HVAC technicians the means to clock in and out and track lunch breaks from their mobile devices. Reach customers faster by eliminating the need for your staff to drive to the office each time they must register a time punch.
Digital Forms: Process common HVAC forms like install/repair sheets, invoices, and service requests electronically to save time and money. Attach photos/audio clips, scan barcodes, and acquire customer signatures via mobile devices and digital documentation.
API Integration: Exchange data with many familiar third-party apps, such as QuickBooks Online, Kronos, ADP, and more to eliminate unnecessary manual data entry for your back-office employees and managers.
GPS Tracking Solutions: Monitor the GPS locations of your employees (during work hours) and your company vehicles/assets to increase accountability and security in the various aspects of your HVAC workforce.
Accepting Payments Using Mobile Devices: Process payment for installations or HVAC repairs from the field at customer locations. Eliminate the inefficiencies of a stationary point-of-sale system and drive faster cash flow.
Digital Messaging: Communicate about installation or repair service requests with your technicians on the fly. Get updates in near real-time and stay more connected to your workforce.
Much like the different kinds of cutting-edge tools and technologies emerging in the HVAC industry, workforce management apps also continue to develop and gain more enhancements as the future unfolds. With the primary goal of helping businesses in the HVAC industry and beyond it drive impactful ROI, these software solutions consistently receive new features and capabilities to give organizations everything they need to stay more productive and profitable.
Use this valuable information about where the future of the HVAC industry is headed (as well as information about how workforce management solutions can help) to set your HVAC business up for even greater success. Being prepared to handle increases in demand, embracing new technologies, and delivering exceptional customer experiences is key to a flourishing HVAC business; how will your organization adjust its strategies to ensure prosperity continues?
About the author : Andrew Forest
Drew Forest is a writer, marketer, and content creator. He enjoys traveling, fantasy football, and watching Tampa Bay sports teams win championships.