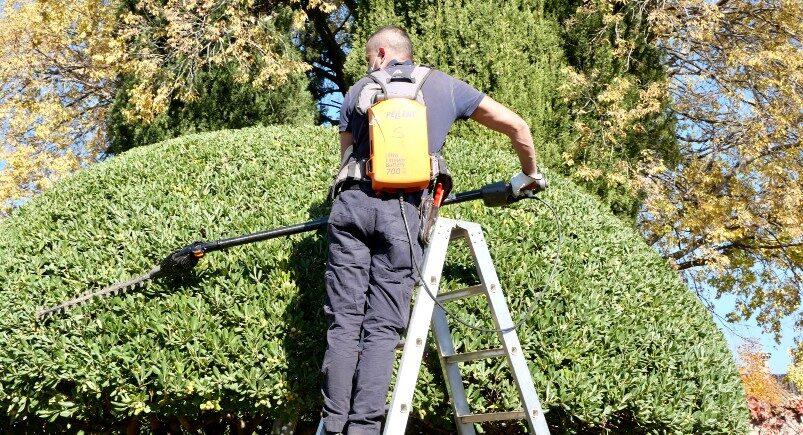 Landscaping businesses thrive when they're employing a skilled and communicative workforce, keeping keen track of their valuable equipment, creating effective marketing strategies, and actively using a workforce management software.
With the right team (and the right technology), you can more effectively scale your landscaping company and handle new customer requests with ease. Here are some more important details about why each of these aspects of your landscaping business are so essential.
A skilled and communicative landscaping crew.
Being able to provide quality service to your customers isn't possible without a strong, dedicated team of individuals to serve your customers. However, it's imperative to make sure you're able to always stay connected to your landscaping professionals in the field, to keep customer experience optimized and ensure productivity remains high.
Employing a skilled landscaping crew means ensuring each team member in your workforce is trained in operating each piece of company equipment in a safe and effective way. Prioritizing communication also helps you know what kinds of tools and equipment are currently in use for certain jobs, reducing confusion and helping you direct your available resources to new customer requests as they're received. By connecting with your landscapers in the field nearly instantly about new jobs, you're reducing idle time spent by your landscapers and ensuring both new and existing customers are being taken care of quickly.
Tools and equipment.
Tools your landscaping business uses, like mowers, hedging equipment, work vehicles, and trailers are expensive and essential to your operation. By using a tracking solution to keep tabs on the near real-time GPS positions of your equipment trailers and landscaping workforce's vehicles, you can help keep these valuable assets to your organization safer from the risk of theft and ensure they're where they need to be when it's time to start working on a new landscaping job.
Tracking data on your company vehicles also can help you gain real-time insights about how they're being operated. With branding on your company vehicles, it's important from both a safety and a reputation perspective that your landscaping crew isn't driving aggressively or speeding during daily work. Fleet tracking solutions can provide essential details about instances of abrupt braking, idling, speeding, and harsh accelerations, so you can enforce policies that keep everyone safer (and help reduce wasteful spending).
Effective marketing.
To continuously move your landscaping business forward, your landscaping team needs a powerful and strategic marketing plan. Marketing plays a key role in helping you attract new clients, and it also can be leveraged to increase sales in your current roster of customers. Some key marketing strategies you can employ are:
Running digital advertising campaigns via social media and email marketing channels.
Gaining new business through word-of-mouth reviews and positive referrals.
Conducting surveys and collecting feedback from your current customers, to see where service can be even further optimized.
Sending digital reminders of recurring service schedules and incentivizing repeat customers (such as by offering a free landscaping project after a set number of jobs have been requested and completed).
Building a strong marketing plan is multifaceted. Create a flexible strategy that includes multiple lead generation channels to help your landscaping business continue driving business and consistently increase revenue.
Workforce management software.
Software that helps you manage your internal processes (and your landscaping workforce) as effectively as possible positions your business to serve more customers and with greater excellence. Landscape crew scheduling software (or workforce management software) empowers you to easily assign your landscapers new work orders digitally, saving time, headaches, and money. However, other features of workforce management solutions, like digital forms, remote/mobile timekeeping, and GPS tracking all also work together to help you exchange the information you need from the field quicker and with fewer costs/errors involved.
Key workforce management features for landscaping businesses:
Digital forms: Allow your landscapers to complete important landscaping documents from the convenience of a smartphone or tablet. With the ability to attach photos of completed work, acquire digital customer signatures, and digitally send finished forms nearly instantly, you can verifiably prove services were completed and accelerate the process.
Dispatching: Schedule and plan service requests from your customers to your landscapers. They can receive these assignments via mobile devices, reducing communication errors, office travel, and expensive fuel burn.
GPS tracking: Monitor the near real-time GPS locations of your landscapers, assets, and vehicles in the field. With locational data about your workforce's various aspects, you can make smarter business decisions that help your customers get the service they need quicker.
Mobile/remote timekeeping: Give your landscaping staff a digital solution for clocking in and out from the field. By being able to track lunches and breaks from the field, they can spend more time daily at customer locations (driving more revenue for your business).
Mobile payments: Accept payments for completed work directly from your customers' locations using digital tools. With this capability, you can help to speed up cash flow for your landscaping company and increase convenience for your customers.
If you're in search of a truly effective and all-encompassing landscape business software, choose TeamWherx™ today. Our platform is designed to help landscaping companies get the most out of their workforce and can play an essential part in assisting you with scaling your business operations.
About the author : Andrew Forest
Drew Forest is a writer, marketer, and content creator. He enjoys traveling, fantasy football, and watching Tampa Bay sports teams win championships.