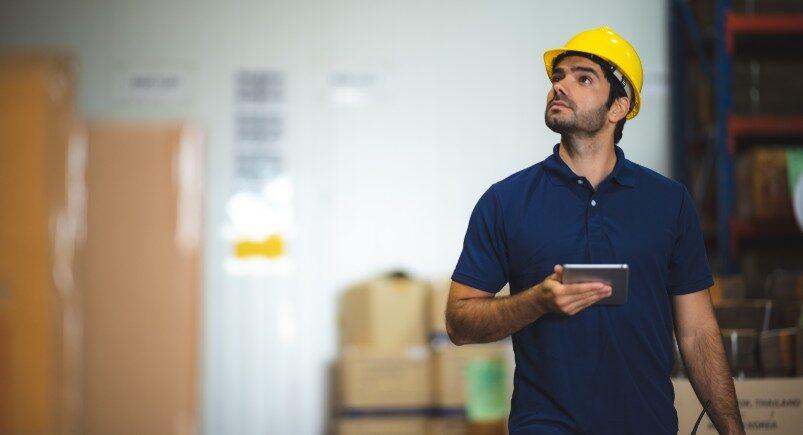 Inventory management is the process of documenting and accounting for all the equipment, materials, parts, tools, or goods your business oversees daily. This essential process has a direct impact on productivity and profitability; it significantly affects the customer experience. Inaccurate stock of what's in your warehouse. on your trucks, at job sites, etc., results in an inability to deliver on customer requests and work orders.
The two primary methods to conduct inventory management are manually (with physical items like pen and paper) and digitally (with software tools). In this blog post, we'll examine key differences between physical and digital inventory management methods.
Physical Inventory Management
Physical inventory management involves manually writing down serial numbers and keeping an accurate count of all the resources in your warehouse, trucks, job sites, etc. With a clipboard in hand, employees physically "take inventory" by noting whether a needed item is in stock, unfit for use, missing, or ready for usage.
The disadvantages of physical inventory management largely center around the amount of time to complete the task and the level of accuracy. This approach takes employees longer to carry out (by requiring them to write down detailed notes, transcribe serial numbers, or provide other information by hand). As a result, productivity is negatively impacted, and many inaccuracies can occur. Error-filled checklists and subsequent rework can waste valuable time and company resources, or falsely indicate that items are in stock or on-hand.
Digital Inventory Management
Digital inventory management uses technology to support an organization's processes. This method revolutionizes workflows for employees by enabling them to use mobile devices and apps to complete their digital checklists. Digital inventory management tools and techniques involve either smartphone or tablet devices loaded with software and mobile apps to scan SKUs, bar codes, and complete electronic forms.
Making the transition from physical to digital inventory management positively impacts your organization's productivity and profitability. Advantages of digital inventory management over physical inventory management include:
Reduced errors from automatically scanning inventory barcodes via mobile device cameras.
Faster completion times (with no manual transcription of information on paper).
Streamlined workflows, as supervisors can receive & review completed electronic forms immediately.
Less shrinkage, with parts, tools, or goods able to be quickly accounted at any time and at any location.
Enhanced customer satisfaction as a result of reliable and consistent service.
Now that each of these inventory methods have been defined and the clear advantages of digital inventory management have been outlined, let's take a closer look at the details with a direct analysis of the two.
Comparison of Physical and Digital Inventory Management
When compared head-to-head, digital inventory management trumps outdated physical inventory management:
Precision and speed: Digital inventory management offers a more accurate and faster alternative to paperwork. By automating several portions of the process (like adding serial numbers, sending information for approval, and calculating totals), employees will have more time to complete additional tasks after quickly taking inventory.
Scalability and versatility: Instead of having to erase or scratch out faulty information on paper inventory sheets, a simple edit of a digital form field can relieve headaches and confusion for your office staff. The intuitive design of digital inventory management tools also makes it easy for all your teams to ramp up quickly on the method.
Cost and simplicity of use: High shrinkage, slow and long inventory processes, and a steep learning curve can be detrimental to your bottom line. Electronic inventory is easier and more cost-effective for your business.
Real-time tracking and reporting: A final category where digital inventory management wins is collecting and visualizing important data quickly. Digital tools allow administrators to view a comprehensive dashboard of all inventory counts on-demand. As a result, business leaders can make smarter operational decisions.
Schedule a free, personalized demo today if you'd like to see how Actsoft's flagship software, TeamWherx® can enhance your inventory management processes and boost productivity and profitability.
About the author : Andrew Forest
Drew Forest is a writer, marketer, and content creator. He enjoys traveling, fantasy football, and watching Tampa Bay sports teams win championships.