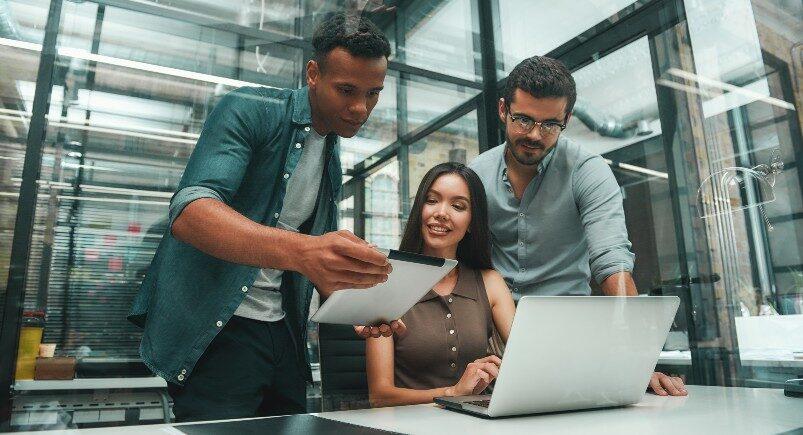 Organizations that are either using or are in the market for workforce management solutions typically require four key features from these types of software applications. These include tools for digital paperwork, dispatching/real-time communication, timekeeping, and data collection from the field.
Designed to increase productivity and profitability, the most impactful workforce management solutions offer these essential features in a single platform. An "all-in-one" platform helps companies automate and streamline processes that could be weighing them down. By digitally transforming lengthy, time-consuming administrative tasks, each of these workforce management features makes it easy to save more money and time daily.
Here's more information about why each of the four previously outlined features are so essential for your organization as you use or search for an effective workforce management app.
Digital Paperwork
A truly all-in-one workforce management app needs to be able to help your company digitize its documentation. This feature makes it easier, less costly, and more dynamic to get the information you need from the field. With tools for attaching photos, digital signatures and audio clips to your paperwork, your office managers and administrators can get more detailed information from the field nearly instantly. Plus, decision logic in a solution for digital paperwork eliminates all of the irrelevant form fields that can make traditional paperwork confusing (by only presenting necessary fields to fill out based on previously completed answers).
Intuitive, automated features like barcode scanning using mobile device cameras or calculation fields also reduce the risk of errors from manual entry and can help streamline inventory management. With the power of a solution for digitized paperwork, you can save your employees time and simplify the documentation process for your company.
Dispatching/Real-Time Communication
Automation when it comes to dispatching and communicating with your employees in the field is a must, and so is knowing what is going on in the field with your workforce. This makes it easier to meet the needs of your customers quickly and more effectively. A workforce management app that includes a dispatching feature offers comprehensive scheduling and a true bird's-eye view of all your team members' outstanding tasks or assignments. By scheduling jobs in advance, you can distribute employee workloads more evenly, provide current customers with more accurate service windows, and assess available capacity to address new customer requests.
Plus, if changes or updates to a certain work order need to be made, you can reach out to your staff using a feature for digital messaging. Dispatching allows you to communicate important details before an assignment is worked on and digital messaging fosters better communication throughout the course of its completion.
Remote/Mobile Timekeeping
A feature for remote or mobile timekeeping enables organizations to increase productivity and convenience for their technicians in the field. Allowing your technicians to clock in and out from mobile devices virtually anywhere eliminates unnecessary travel to HQ and makes it easier and faster for them to reach new customers. A workforce management solution with timekeeping capabilities also can potentially reduce the amount of unnecessary overtime and manual data entry your employees have to perform daily, which positively impacts profitability.
Many applications for field service management also offer compatibility with third-party systems for payroll and accounting, reducing the need to manually enter timesheet data from one solution into another. By exchanging critical data like this between your workforce management solution and the other systems you use, you're also able to help potentially prevent costly errors.
Data Collection from the Field
Lastly, learning more about the inner workings of your business operations is critical to making sound, strategic business decisions. One of the best ways to do this is with workforce data from the field. These types of data include driving behavior, as well as the conditions and locations of your valuable resources (e.g., employees, vehicles, assets, and equipment).
GPS data also is such a necessity in a workforce management solution because it can be used in tandem with the dispatching feature and enhance its effectiveness. If you're able to see where your staff are in relation to new customer requests that come in, you can make smarter routing and assignment decisions that expedite service for clients, reduce long travel times for your employees, and lower fuel costs for your business. Knowledge about the locations of your workforce's various aspects, work order completion, and statistics on vehicle/asset usage keeps you truly in-the-know when it comes to your business operations.
With the power of workforce management solutions, businesses like yours can increase their revenue and efficiency during each step of the day-to-day operations. Our flagship application, TeamWherx™, includes intuitive capabilities for each of these four essential features to help your workforce improve its process and project management. Act now and schedule a free demo to see more of the benefits our powerful application can deliver to your company.
About the author : Andrew Forest
Drew Forest is a writer, marketer, and content creator. He enjoys traveling, fantasy football, and watching Tampa Bay sports teams win championships.